Study: Half of U.S. women gain too much weight during pregnancy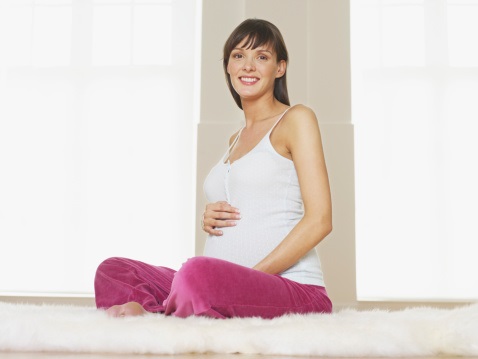 Putting on too many pregnancy pounds can be risky, yet nearly half of pregnant women in the U.S. gain more weight than they should, according to a recent study by the U.S. Centers for Disease Control and Prevention that found that roughly 47.5 percent of women experience excessive gestational weight gain.
Most women need to consume an additional 340 to 450 calories per day during the second and third trimesters of pregnancy, and they should engage in about 150 minutes of physical activity, the study's authors reported. But, many pregnant women are consuming more calories than they should and aren't exercising enough. This can harm both the pregnant mother and her baby.
"When a pregnant woman gains more weight than she should she increases her chances of getting diabetes, preeclampsia or hypertension," says Dr. Sarah Wong, obstetrician and gynecologist with Advocate Condell Medical Center in Libertyville, Ill. "Also, after she delivers the baby, she may have a harder time going back to her normal weight."
According to the Institute of Medicine's Weight Gain and Pregnancy Guidelines, when a woman of normal weight becomes pregnant, she should gain about 25 to 35 pounds; overweight women should add 15 to 25 pounds; obese women should aim for 11 to 20 pounds; and underweight women should gain 28 to 40 pounds.
Gaining too much weight during pregnancy can have short- and long-term health consequences for mothers and infants. There is an increased risk of giving birth to a baby who is considerably larger than normal, which may lead to complications during labor and delivery. Other risks include postpartum weight retention, future maternal obesity and possibly future childhood obesity, the report suggested.
Some women might believe exercise during pregnancy is risky, but Dr. Wong says it's safe and recommended for most pregnant women.
"We encourage them to be physically active," says Dr. Wong. "Unless there are complications, pregnant women should be moderately physically active."
The National Institutes of Health offers these steps for safe exercise during pregnancy:
Choose moderate activities unlikely to injure, such as walking, water aerobics, swimming, yoga or using a stationary bike.
Stop exercising when you start to feel tired, and never exercise until you are exhausted or overheated.
Drink plenty of water.
Wear comfortable clothing that fits well and supports and protects your breasts.
Stop exercising if you feel dizzy, become short of breath, feel pain in your back, experience swelling or numbness, feel sick to your stomach or if you notice your heart beating too fast or at an uneven rate.
Related Posts
Comments
About the Author
Kathleen Troher, health enews contributor, is manager of public affairs and marketing at Advocate Good Sheperd Hospital in Barrington. She has more than 20 years of journalism experience, with her primary focus in the newspaper and magazine industry. Kathleen graduated from Columbia College in Chicago, earning her degree in journalism with an emphasis on science writing and broadcasting. She loves to travel with her husband, Ross. They share their home with a sweet Samoyed named Maggie.