Cooking tips for a hazard-free Thanksgiving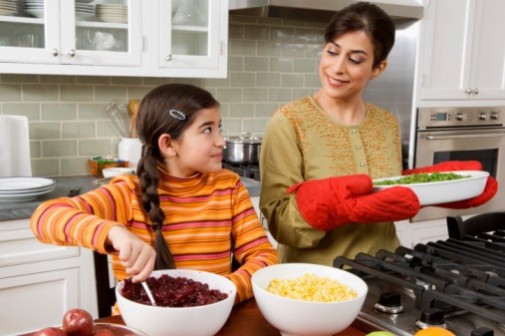 The kitchen is often the center of Thanksgiving celebrations, and all that extra cooking and commotion can lead to safety issues, particularly the risk of fire.
The threat of kitchen fires triples on Thanksgiving Day, according to the U.S. Consumer Product Safety Commission (CPSC), with an average of about 1,300 cooking fires on the fourth Thursday of each November.
"Unfortunately, many Thanksgiving holidays are ruined by accidents and injuries," says Dr. Deshon Moore, emergency medicine physician at Advocate South Suburban Hospital in Hazel Crest, Ill. "We see it all the time. All the cooking and activity in and around the kitchen can add up to dangers you just don't run into during the rest of the year, and people need to be extra careful."
Between 2009 and 2013, the National Fire Protection Association (NFPA) reported that U.S. fire departments responded to an average of 162,400 home cooking fires per year. These fires resulted in an annual average of 5,400 reported injuries, 430 civilian fire deaths and $1.1 billion in direct property damage.
According to CPSC, the larger, non-confined Thanksgiving Day fires in residential buildings are generally caused by electrical malfunctions, carelessness or other unintentional actions such as open flames.
"People need to take some time to educate themselves on how to prevent fires and other potentially devastating mishaps," says Dr. Moore. "They also need to be prepared to deal with anything that goes wrong before it turns into a much more serious safety issue."
The NFPA recommends that if you have a small (grease) cooking fire on the stovetop and decide to fight the fire, you should smother the flames by sliding a lid over the pan and turning off the burner. Then, leave the pan covered until it is completely cooled.
To keep yourself and your loved ones safe this Thanksgiving, Dr. Moore recommends people follow guidelines set by both the CPSC and NFPA, including:
Stay in the kitchen when you are cooking on the stovetop so you can keep an eye on the food.

Stay in the home when cooking your turkey and check on it frequently.

Avoid wearing loose-fitted clothing with long sleeves near ovens.
Turn pan handles toward the back of the stove to prevent kids and others from spilling a pan's scalding contents onto themselves.
In the event of a fire, call 911.

Never pour water or flour onto a fire – that can make the fire worse.
Keep a fire extinguisher in the kitchen.

Remove flammable items that might catch on fire like oven mitts, wooden utensils, food packaging, towels and curtains away from the cooking area.
Be alert when cooking. If you are sleepy or have consumed alcohol, don't use the stove or stovetop.
If you're cooking a turkey using a disposable aluminum pan, consider doubling up and using two pans to avoid a puncture as dripping turkey juices can cause an oven fire.
Make sure your smoke alarms are working.
Turkey fryers are another popular way to cook Thanksgiving turkey, but the frying can add another level of safety issue to the holiday festivities.
According to CPSC reports, there have been more than 160 turkey fryer-related fires, burns, explosions or carbon monoxide poisoning incidents since 2002. There were more than 70 injuries reported, but no fatalities.
To help keep home fryers safe, the U.S. Fire Administration highlights five dangers of deep frying a turkey:
Turkey fryers can easily tip over, spilling hot cooking oil over a large area.
An overfilled cooking pot will cause cooking oil to spill when the turkey is put in, and a partially frozen turkey will cause cooking oil to splatter when put in the pot.
Even a small amount of cooking oil spilling on a hot burner can cause a large fire.
Without thermostat controls, deep fryers can overheat oil to the point of starting a fire.
The sides of the cooking pot, lid and pot handles can get dangerously hot.
Related Posts
Comments
About the Author
Nate Llewellyn, health enews contributor, is a manager of public affairs at Advocate Medical Group. Nate began his career as a journalist and builds daily on his nearly 20 years of writing experience. He spends most of his free time following his wife to their two sons' various activities.