Physical activity linked to better memory in older adults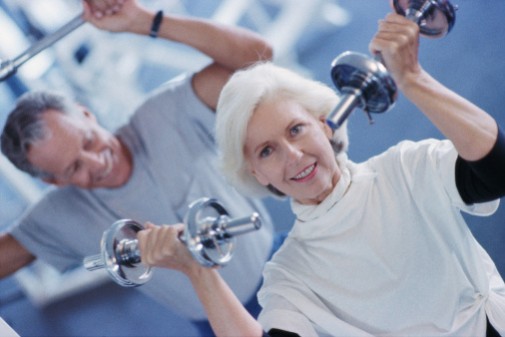 New research indicates exercise is key to mental health for older adults who are striving to remain independent and active.
Older adults who walk or jog perform better on memory tasks than those who are more sedentary, according to researchers from Boston University.
"Everyone knows that physical activity is a critical component to ward off obesity and cardiovascular-related disease," said Scott Hayes, assistant professor of psychiatry at Boston University School of Medicine, in a news release. "Knowing that a lack of physical activity may negatively impact one's memory abilities will be an additional piece of information to motivate folks to stay more active."
The study included 31 older adults (ages 55 to 82) and 29 young adults (ages 18 to 31) who wore a small device called an ActiGraph that recorded how many steps each person took, how vigorous the steps were and how much time it involved. Participants also completed neuropsychological testing to assess their memory, planning, problem-solving skills and face-name associations.
The results showed that older adults who took more steps per day had better memory performance, while no change was reported in the young adult group. Researchers concluded that the effects of physical activity extend to long-term memory.
"Americans are living longer now more than ever before due to major medical and technological advances in addition to improved hygiene and sanitation practices," says Sue Durkin, geriatric advanced practice nurse at Advocate Good Samaritan Hospital in Downers Grove, Ill. "This means that we need to take a more proactive role in our health, from eating nutritious meals and exercising regularly to stimulating our cognitive skills. Even though the Boston University study had a small sample size, it supports prior research that demonstrates the benefit of exercise."
The Boston University research showed that physical fitness benefits cognitive health or mental capabilities used to think, talk, learn, read and recall things from memory. As people age, a decline in these mental capabilities is caused by the death of brain cells. However, the decline can also result from dementia or Alzheimer's disease.
According to the Alzheimer's Association, 5.1 million Americans 65 years old and older have Alzheimer's disease, the most common form of dementia. In addition, one in three seniors dies with Alzheimer's or another dementia each year.
To maintain and improve cognitive skills in older adults, Durkin suggests engaging in interactive conversations, learning a new hobby or craft, playing games and solving puzzles.
"Our bodies were made to move," she says. "Many of these non-pharmacologic approaches to maintaining health and function can help sustain a satisfying quality of life."
Moving forward, Hayes said more research is needed to explore the specific mechanisms of how physical activity may positively impact brain structure and function.
Related Posts
Comments
About the Author
Johnna Kelly, healthe news contributor, is a manager of public affairs and marketing at Advocate Christ Medical Center in Oak Lawn. She is a former newspaper reporter and spent nearly 10 years as a public relations professional working for state and county government. During her time as a communications staffer for the Illinois General Assembly, she was integral in drafting and passing legislation creating Andrea's Law, the nation's first murderer registry. In her spare time, she volunteers at a local homeless shelter, enjoys traveling, photography and watching the Chicago Bulls.