How to navigate food allergies during the holiday season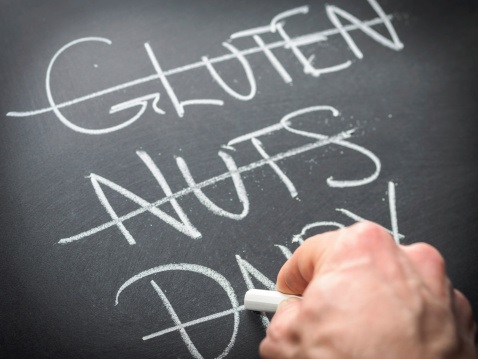 The holidays are a special time filled with family, friends and delicious food, but parties can be a challenging event to navigate for those with food allergies.
The U.S. Centers for Disease Control and Prevention estimates that food allergies affect up to 6 percent of children and 4 percent of adults. Allergic reactions to food also account for 200,000 emergency room visits a year.
Since 90 percent of the most common food allergens are peanuts, tree nuts, milk, egg, wheat, soy, shrimp and fish, traditional holiday dishes can pose problems at the dinner table.
Dr. Raymond Pongonis, allergies, asthma and immunology specialist at Advocate Good Samaritan Hospital in Downers Grove, Ill., says that most food allergic reactions will occur within the first 15 minutes after a meal has been ingested, but they can sometimes occur several hours later.
Symptoms of allergic reactions can include itching or swelling around the mouth, lips or tongue; vomiting; diarrhea; abdominal cramps; hives; trouble breathing; sensation of airway closure; and dizziness or lightheadedness due to a drop in blood pressure.
"Food allergies are a dangerous condition for an increasing number of people," Dr. Pongonis says. "While there is no current cure, strict avoidance of allergenic foods and preparedness to treat an anaphylactic reaction can reduce the risk of a bad outcome for persons with food sensitization."
He also suggests patients have a plan in place for how to deal with holiday hazards at the buffet table.
He offers these tips:
Eat before the party. If you are unsure of the menu, eat a light meal before you go and bring a snack to get you through the evening in case your options are limited.
Prepare a safe dish. Even if the party is not a potluck, offer to bring an allergy-free dish or two. Your host will be thankful to not have to prepare separate dishes.
Check in beforehand. Always let the host or restaurant know about your food allergy in advance so menu accommodations can be made.
Carry your rescue epinephrine medication. Also make sure your auto-injector is not expired.
Holiday parties can be equally stressful on the host. The good news is that it's possible to throw an allergy-friendly holiday party this season by following these recommendations:
Communication: Ask guests if they have any allergies that you should be made aware of when preparing the meal. Simply add a line to the invitation so guests can indicate either way when they RSVP.
Prepare an alternative dish: Allergy-free versions of holiday traditions can be made by finding alternative ingredients.
Avoid cross-contamination: Use care with utensils and surfaces when preparing food. Also prepare and store allergy-friendly meals separately from the rest of the dishes.
Host a potluck: To make the party planning a little easier, ask guests to bring their favorite dish to pass. This ensures that everyone will be able to eat at least one item.
Use allergy-alert tools: Color-coded cooking utensils, such as red or green, can be used to alert food-allergic guests. Or place the recipe next to the dish.
Related Posts
Comments
About the Author
Johnna Kelly, healthe news contributor, is a manager of public affairs and marketing at Advocate Christ Medical Center in Oak Lawn. She is a former newspaper reporter and spent nearly 10 years as a public relations professional working for state and county government. During her time as a communications staffer for the Illinois General Assembly, she was integral in drafting and passing legislation creating Andrea's Law, the nation's first murderer registry. In her spare time, she volunteers at a local homeless shelter, enjoys traveling, photography and watching the Chicago Bulls.