What docs can do to prevent physician burnout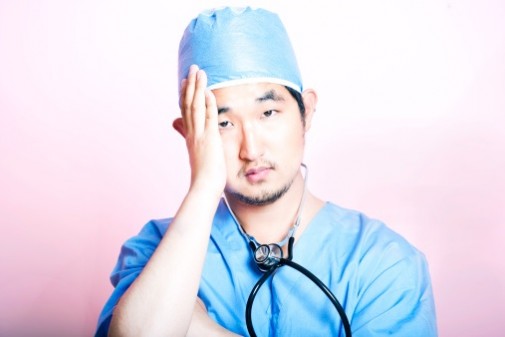 Dr. Sonia Godambe will give birth to her first child sometime this month.
The gastroenterologist at Advocate Sherman Hospital in Elgin, Ill., has practiced medicine for more than five years. After her child is born, she'll be on maternity leave before returning to work as part of the Illinois Gastroenterology Group.
"I love my job for the opportunity to care for patients, get to know them and their families, and guide them through illness and health," Dr. Godambe says. "I am just starting to navigate how I will split my time between work and our new baby. I still want the very best for my patients, but am also really excited to spend time at home as a new mom."
A recent update to a study evaluating burnout and work-life balance showed American physicians are feeling worse off than they were three years prior. Researchers found that over 50 percent of physicians are now experiencing professional burnout.
Physician burnout was up about 10 percent over the last three years, according to the study. Satisfaction with work-life balance also declined.
"The study brings up some feelings that all working Americans feel – that there are increasing demands at work without any more hours in the day." Dr. Godambe says. "Each person has to make the right decision for them to strike the right work-life balance."
The study was conducted by Mayo Clinic researchers in partnership with the American Medical Association and compared survey data from 2014 to data collected in 2011. Results were based on 6,880 physicians, a 19 percent response rate, and a population based sample of 5,313 working adults in other fields.
"I do feel to some extent that burnout does exist," Dr. Godambe says. "However, I firmly believe that at the end of the day, we all still feel fortunate to be a member of health care, serve our community and care for our patients. Simply put, we all still love our jobs."
To combat feelings of workplace stress, Dr. Godambe suggests people do what's best for themselves and their family, and to always "just say yes."
"Say 'yes' to the help from family and friends at home to make your home life easier and happier for everyone," she says. "Also, say 'yes' to opportunities at work to continue to grow your career and knowledge base so you can serve your patients."
Dr. Jeffrey Kazaglis, an orthopedic surgeon at Advocate Sherman Hospital, agrees that burnout does exist, but that it can be reversed.
He offers these tips to combat physician burnout:
Spend time with your family: Make it home for dinner on set days. Take a family vacation to keep the "glue" in your relationships. Don't forget "date nights" with your spouse or significant other. If you are unhappy at home, it's hard to be happy at work.
Spend some time on yourself: Get fit. You don't have to be doing "Insanity" workouts daily, but take a morning walk, ride a bike or play some golf or tennis.
Get some rest: A good night's sleep always makes for a better next day at work.
Get smarter: I always feel better about medicine after I have come back from a Continuing Medical Education trip. Just filling your brain about all the latest advances in your field helps you feel current and confident to take care of your patients.
Volunteer: Physicians are, by definition, in a field that serves others, but it feels great to give back to your community and country in other ways. These can help give your life more meaning outside of the rigors of day-to-day medicine.
Click here to read Dr. Enrique Saguil's personal story on his decision to leave the medical field, and how that decision has impacted him now that he is practicing medicine again.
Related Posts
Comments
About the Author
health enews staff is a group of experienced writers from our Advocate Aurora Health sites, which also includes freelance or intern writers.