6 tips to stay healthy while traveling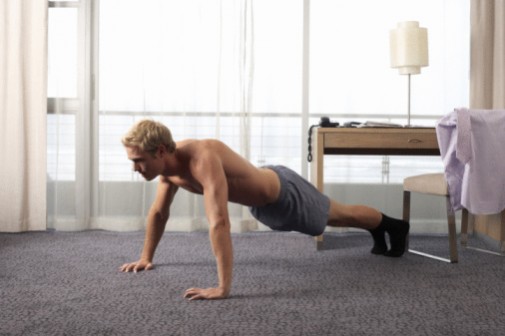 Whether it's a family vacation or a business trip, travel can easily throw off a person's regular exercise routine. With a little pre-planning and motivation, a temporary change of scenery doesn't have to derail your regimen.
"While taking a short break from exercise won't take a toll on your long-term health, falling out of routine can make you feel more tired than usual and decrease the motivation to return to your workout pattern back home," says Brandon Nemeth, fitness specialist at Advocate Christ Medical Center in Oak Lawn, Ill.
To avoid setbacks and weight gain, Nemeth shares six tips to help stay in shape while away from home:
Go prepared – Don't forget to pack your usual workout clothes and gym shoes. Also, bring other items you regularly use like headphones or a heart rate monitor.
Plan ahead – Call your hotel or look on their website to learn if a gym is onsite and what equipment is offered. If no gym is available, you can plan in advance other ways to exercise throughout the trip.
Perform no-equipment strength moves: Not having access to equipment is no excuse for skipping a workout. Many exercise moves can be done anywhere at any time. Try wall squats, planks push-ups, jumping jacks and lunges.
Walk as much as you can – Make up for shorter, lower-intensity workouts by moving more than usual to elevate your heart rate. Explore a new city or discover landmarks by walking or biking instead of using a train or trolley. Ditch the elevator and climb stairs whenever you can.
Incorporate fitness into vacation activities – Find a fun, physical activity for your whole family to enjoy. Rent bikes and ride through town or along the beach. Try new water sports like paddle boarding, kayaking and canoeing.
Download fitness apps – Many smartphone and tablet apps exist that provide personalized workouts that require no equipment and an option to customize the time.
In addition to working out, maintaining healthy eating habits while traveling is just as important.
"A healthy breakfast is key," says Dr. Emelie Ilarde, a primary care physician with Advocate Christ Medical Center. "It will help to control your appetite throughout the day, making it less likely you will crave unneeded and unhealthy snacks."
She also recommends people remain conscious of their food choices and resist the urge to splurge at every meal just because their on vacation.
"Exercise portion control by ordering a half-size meal or share a large entrée with someone else," Dr. Ilarde says. "If you're going to indulge in an unhealthy meal or dessert, do so in moderation to avoid potential vacation weight gain."
Consuming a lot of fluids can also help keep people from munching on high-calorie snacks.
"Drinking water throughout the day can help subdue food cravings," Dr. Ilarde says. "Dehydration is commonly mistaken for hunger, which causes people to eat when they are only in need of water. If you are hungry for a treat, drink a large glass of water and wait 15 to 30 minutes to see if the urge to eat has gone away."
Dr. Ilarde and Nemeth both agree that vacation is a time to recharge and reduce stress levels, so relaxation should be incorporated into travel just like exercise.
Related Posts
Comments
About the Author
Julie Nakis, health enews contributor, is manager of public affairs at Advocate Children's Hospital. She earned her BA in communications from the University of Iowa – Go Hawkeyes! In her free time, she enjoys spending time with friends and family, exploring the city and cheering on the Chicago Cubs and Blackhawks.