How to prevent winter sports injuries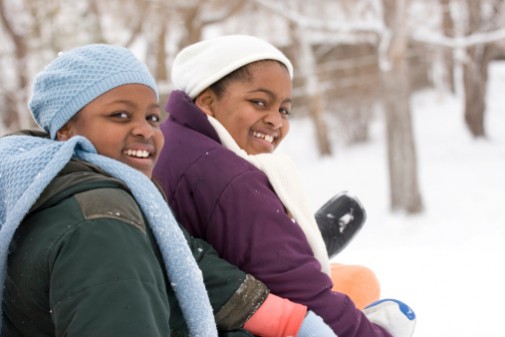 Although many of us like to "hunker down" inside during the long Chicago winter, there are many opportunities for outdoor recreation.
Skiing, sledding, snowshoeing, snowboarding and shoveling snow are just a few of the opportunities for a little outdoor exercise.
During the warm summer months, it's second nature for most of us to warm-up with some stretching, jogging, etc., prior to engaging in sports, but many of us forget to do the same thing in the winter.
Here are a few tips to prevent injuries when engaged in cold-weather sports:
Make sure to warm-up: Although it may look a little weird to stretch in the parking lot or locker room, don't forget to warm up your muscles, especially before explosive sports like skiing or snowboarding. One suggestion is to park a little farther from the lifts. A five to 10 minute walk, followed by a little stretching can help prior to putting on your boots.
Drink plenty of fluids: We often don't feel the same thirst when it's cold outside as we do during the summer months. Don't forget to hydrate before, during and after you exercise. Make sure to have a few glasses of water before engaging in full-out "Après Ski."
Shoveling snow is tough exercise: Unless you have a heavy labor job, shoveling snow for two hours is more physically tasking then you think. There is a bump in heart attacks presenting to emergency rooms after the first snowfall of the year. Don't be one of them. In addition, make sure to warm-up and stretch out your back, shoulder and legs prior to tackling the latest Polar Vortex.
Wear a helmet: Whether it is skiing, riding a snowmobile or snowboarding, remember that many winter sports are fast. Especially during snowy, cold or poor visibility conditions, protect yourself from severe head injury by purchasing a well-fitted helmet.
See you on the slopes.
Related Posts
Comments
About the Author
Dr. Jeffrey Kazaglis is an orthopedic surgeon on staff at Elgin-based Advocate Sherman Hospital who completed 22 years of military service. Dr. Kazaglis specializes in general orthopedics, fracture care, hand surgery, sports medicine, joint reconstruction and arthroscopic surgery of the hip, knee, ankle, shoulder, elbow and wrist. He lectures extensively on knee and shoulder problems with a focus on sports injuries.