When it comes to newborns, age matters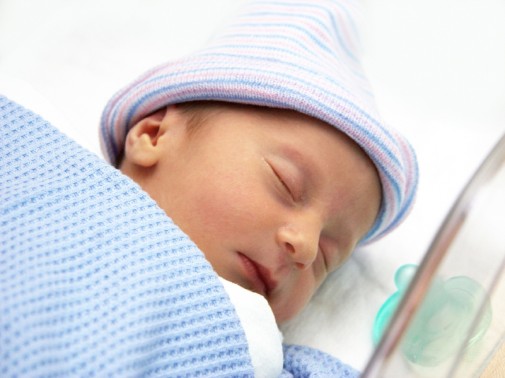 Knowing whether a baby was born on time or a few weeks early is very important for doctors to know so they can decide what medical care is best after birth.
In the United States, obstetricians can easily determine a baby's gestation age thanks to early ultrasounds. In developing countries, where technology is scarce, doctors rely mostly on birth weight to determine a newborn's gestational age.
But now, researchers at the University of Iowa have found they can estimate an infant's gestation age through a metabolic profile derived from routine newborn screenings. All they need is a drop of blood.
The study, published recently in the American Journal of Obstetrics and Gynecology, analyzed about 300,000 records from the Iowa neonatal newborn-screening program, which is a routine part of care for every baby born in the U.S.
"It's important to know whether a baby is small because it is simply small in size but born on time or is small because it was born early," said Kelli Ryckman, lead author of the study, in a news release. "It helps determine how doctors should move forward with that baby and what kinds of health issues they should watch for."
According to the March of Dimes 2015 report card, one in 10 babies are born too soon in Illinois. Premature birth is the No. 1 killer of babies, and babies born too soon have an increased risk for serious health complication and lifelong disabilities.
Researchers hope their metabolic gestational-dating algorithm can be used in developing countries to actively examine the rates of preterm births and then target at-risk areas with interventions and prevention programs.
"We do see preterm birth more than we'd like," says Dr. Bridgette Blazek, obstetrician and gynecologist at Advocate Lutheran General Hospital in Park Ridge, Ill. "Risk factors include prior preterm delivery, twin pregnancy, ages less than 18 years old and over 40 years old, uterine fibroids, poor nutrition, smoking, drug use, short interval between pregnancies, and inadequate prenatal care."
Dr. Blazek says that the best thing a woman can do to prevent preterm birth is to see their doctor at the intervals he or she suggests.
"Your doctor may be able to make recommendations to decrease your risk and in some cases, medication can be used to help prevent preterm birth," Dr. Blazek says.
Related Posts
Comments
About the Author
Sonja Vojcic, health enews contributor, is a marketing manager at Advocate Health Care in Downers Grove, Ill. She has several years of international public relations and marketing experience with a Master's degree in Communications from DePaul University. In her free time, Sonja enjoys spending time with her family, travelling, and keeping up with the latest health news and fashion trends.