Menopause can be a risky time for migraine sufferers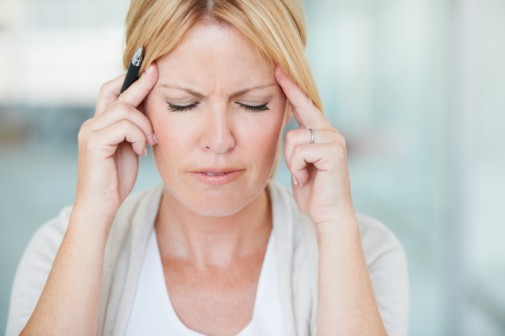 Women who suffer from migraines may be at an increased risk for worsening headaches as they move into menopause, according to a new study.
Researchers from the University of Cincinnati Montefiore Headache Center analyzed data from the American Migraine Prevalence and Prevention Study, which followed participants over six years. The researchers pulled data from over 3,600 women between 35 and 65 years old who suffered migraines before, during and after menopause.
In study participants, high frequency headaches – defined as 10 or more headaches per month – increased by 60 percent during perimenopause and 76 percent in women who had reached menopause.
Perimenopause refers to the transition period before menopause, when menstrual cycles start to become irregular, and commonly begins when women reach their 40s. Menopause begins when a woman has ceased having menstrual cycles for one full year.
"Menopause is officially marked by a cessation in fertility, but the hormonal changes involved in that process can have many unexpected consequences," says Dr. Michelle Meeks, family practice physician at Advocate South Suburban Hospital in Hazel Crest, Ill. "Hot flashes and irritability are common and well-known side effects, but for migraine sufferers, things can get especially difficult."
Study authors hypothesized that the dramatic hormonal fluctuations in perimenopause might be to blame. According to the study, the risk of migraines during that time were highest in the latest stages of perimenopause, when estrogen levels were lowest.
The increased risk of migraine was high during menopause, as well as when hormone levels tend to level out. This may indicate that there may be other factors in play that require further study.
"When a woman begins that transition into menopause, it is important that she works closely with a trusted physician who can help her manage the symptoms. There are a variety of options available, from hormonal treatments to lifestyle changes, depending on the type and severity of her symptoms," says Dr. Meeks. "Unfortunately, migraines are a complicated condition. As a result, the causes aren't entirely understood. Women who suffer from migraines have to focus on avoiding known triggers and managing the symptoms as best they can."
Dr. Meeks offers these tips for managing and preventing migraines:
Make note of personal migraine triggers, so they can be avoided whenever possible. Common triggers include caffeine withdrawal, physical stress, missed meals, lack of sleep and drinking alcohol or smoking.
Alter your diet to avoid foods that commonly trigger migraines. These can include chocolate, dairy, some fruits and meats containing nitrates.
Practice stress Try taking regular naps, practice meditation or cut back on personal or volunteer commitments, as needed.
Exercise regularly and, if overweight or obese, try to lose excess weight.
Talk to your physician about preventive medications, if they become severe or increase in frequency.
Related Posts
Comments
About the Author
health enews staff is a group of experienced writers from our Advocate Aurora Health sites, which also includes freelance or intern writers.