Is your skin condition caused or worsened by stress?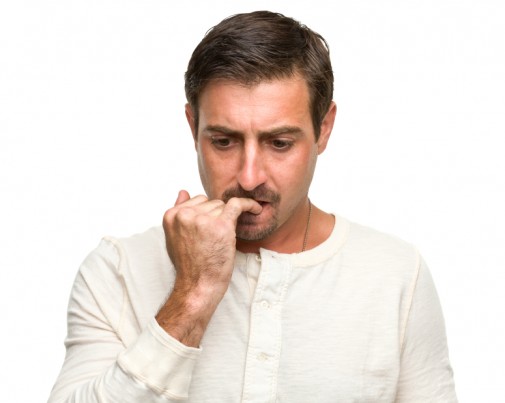 Do you catch yourself biting your nails in times of high stress or developing acne when you feel under pressure? If so, the relationship between your mind and skin is much deeper than you think, and the implications of the connection may go beyond those stubby nails.
Psychodermatologic disorders are conditions that involve a relationship between the mind and skin. According to the American Academy of Family Physicians, there are three categories of these skin disorders:
Psychophysiologic disorders: Skin conditions that can be brought on or worsened by emotional stress
Primary psychiatric disorders: Stems from psychologic causes
Secondary psychiatric disorders: Preexisting dermatologic disorders that negatively impact a patient's self-esteem
"Such disorders are quite common," says Dr. Rian Rowles, the chairman of the department of psychiatry at Advocate Christ Medical Center in Oak Lawn, Ill. "Depending on the data you look at, anxiety-related dermatologic disorders can occur in one in 10 people over the course of their life."
Common psychophysiologic disorders include urticaria (hives) and rosacea, a skin condition in which cheeks, nose and forehead appear flushed. It is believed to be worsened by dilating blood vessels in the skin, a phenomenon that often occurs in high-stress situations.
Primary psychiatric disorders include neurotic excoriation, which causes patients to compulsively pick at skin around fingernails or other body sites to the point of physical damage. Trichotillomania is a disorder which patients pull out hair from their scalp, eyelashes and eyebrows.
Dr. Rowles says trichotillomania is the most common dermatologic disorder he sees.
"These disorders are very frequently worsened by stress and anxiety, but they are not necessarily preexisting," he says. "They may even develop later in life."
Dr. Rowles points out that dermatologic disorders can play a major role in a patient's life.
"When anxiety exacerbates conditions such as eczema or rosacea, people can change their lifestyle due to not feeling comfortable with their appearance," he says, adding that other dermatologic disorders can have similar negative effects.
Many patients with secondary psychiatric disorders such as vitiligo or alopecia experience depression and anxiety as a cause of their dermatologic disorder. Vitiligo, a disease that involves the death of skin pigment cells, is characterized by a loss of skin color in parts of the skin. These disorders are not a result of stress or anxiety, but they can be a cause.
"It is easy to see how this can be life-altering. Severe dermatologic illness can lead to significant depression and anxiety," says Dr. Rowles, who recommends seeing a medical professional—either a primary care physician, psychiatrist or psychotherapist, to refer and treat as needed.
"Patients are diagnosed with psychodermatologic disorders by taking careful history and then determining if dermatologic symptoms correlate with anxiety or not," he says.
Treatment options for psychodermatologic disorders include therapy, which is usually cognitive behavioral-based, and medications for anxiety disorders.
Related Posts
Comments
About the Author
Holly Brenza, health enews contributor, is the public affairs coordinator at Advocate Children's Hospital. She is a graduate of the University of Illinois at Chicago. In her free time, Holly enjoys reading, watching the White Sox and Blackhawks, playing with her dog, Bear and running her cats' Instagram account, @strangefurthings.