Heart patient stops at nothing to climb Mt. Kilimanjaro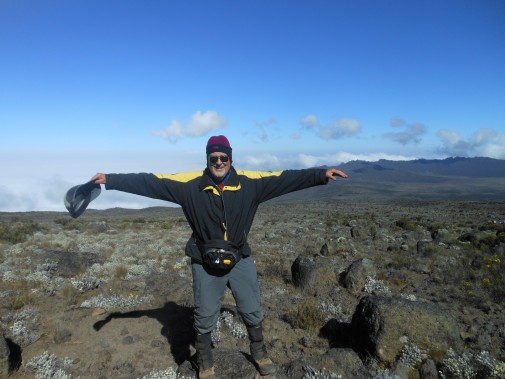 Bruce Weiss grew up in Central Africa dreaming of climbing Mt. Kilimanjaro.
He had every intention of climbing one of the world's tallest peaks, but after his parents decided to move to the United States, it made it even more challenging to conquer his lifelong dream.
After that, life happened as the now 75 year old puts it. It wasn't until the West Dundee, Ill. resident was in his 50s that he read a newspaper article about three men in their 60s who summited Mt. Kilimanjaro that he wanted to reevaluate his goal.
"It made me think, 'maybe I gave up on my dream a little too soon,'" Weiss says. "I started talking about it, and my wife said, 'Climb it, and stop talking about it.'"
Weiss made the trek to Africa with his son in 2012 for a 10-day journey to the top of Mt. Kilimanjaro. On day two, his heart started to race rapidly when they hit 15,000 feet. He was experiencing atrial fibrillation. The heart condition caused him to stop climbing the mountain. He wouldn't be able to fulfill his dream.
Atrial fibrillation is the most common type of arrhythmia, which causes a problem with the rate or rhythm of the heartbeat. During his atrial fibrillation, Weiss' heart was beating very fast and irregularly.
Weiss controlled his atrial fibrillation with medication, but when he returned to the United States, it started to happen more frequently. He then had an ablation, a minimally invasive procedure where the doctor destroys tiny areas in the heart that are firing off abnormal electrical impulses and causing atrial fibrillation.
"When it comes to atrial fibrillation, we generally evaluate the patient to see how much he or she is having, and then put them on medication," says Dr. Pradeep Maheshwari, a cardiac electrophysiologist at the Advocate Heart Institute at Sherman Hospital in Elgin, Ill. "If that's not working, we perform an ablation."
Weiss had no issues following the procedure, and Dr. Maheshwari told him he was free to do whatever he wanted.
"Although some people thought I was nuts, I wanted to climb Mt. Kilimanjaro again," Weiss says.
In June 2015, Weiss tried the climb one more time by walking 10 miles three days a week and working out at the gym two hours a day three times a week. This time, it wasn't atrial fibrillation that stopped Weiss – he was struck with serious altitude sickness on day seven of the trek, and was unable to finish the climb to the top.
On December 2015 Weiss had to deal with another bout of atrial fibrillation, which is currently being treated with medication and rehabilitation at Advocate Sherman Hospital.
"Just treating the atrial fibrillation isn't enough," says Dr. Maheshwari. "It's a lifestyle change. People need to exercise, eat right, practice good sleeping habits and cut out the alcohol and tobacco. Bruce [Weiss] has done very well."
Most recently, Weiss' wife told him while he was exercising, "I never thought I would say this, but I was thinking, you have supported me on my passion, and I know Mt. Kilimanjaro is yours. I don't want you to go back, but if you want to go back for a third try, I support you."
"I'm not quitting," Weiss says. "I'm not going to sit on the couch and feel sorry for myself. I've run marathons, have always been active and want to stay active as long as I can. Will there be another climb? I hope so. That's my mountain."
Do you know your risk for heart disease? Take Advocate Heart Institute's heart risk assessment here. If you are at high risk, see one of Advocate Heart Institute's cardiologists within 24 hours.
Related Posts
Comments
About the Author
health enews staff is a group of experienced writers from our Advocate Health Care and Aurora Health Care sites, which also includes freelance or intern writers.