Women of childbearing age should skip alcoholic drinks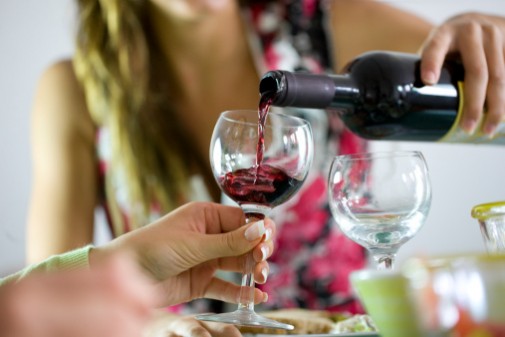 Women of childbearing age should avoid alcohol unless they are using contraceptives, according to the U.S. Centers for Disease Control and Prevention.
The CDC's new alcohol guidelines are geared toward decreasing the number of babies born with fetal alcohol syndrome. Federal health officials estimate 3.3 million women between the ages of 15 and 44 are at risk of exposing a developing fetus to alcohol because they "drink, are sexually active and do not use birth control."
"Alcohol can permanently harm a developing baby before a woman knows she is pregnant," said Dr. Anne Schuchat, CDC principal deputy director, in a news release. "The risk is real. Why take the chance?"
Fetal alcohol syndrome is caused when the alcohol consumed by the mother passes through her blood and umbilical cord to the baby. Babies born with fetal alcohol syndrome can have a small head and low body weight in addition to heart and kidney problems. They also can develop learning disabilities along with speech and language delays, according to the CDC.
Dr. Jennifer Balash, an obstetrician and gynecologist at Advocate Good Samaritan Hospital in Downers Grove, Ill., says the CDC's guidelines could prevent babies from being born with the life-long effects of fetal alcohol syndrome.
"Women who are pregnant generally don't realize it until four to six weeks into their first trimester. Any alcohol consumed during this vulnerable time in the pregnancy may have a negative effect on the fetus," Dr. Balash says. "I advise all of my patients who are trying to get pregnant to avoid alcohol. We want to make sure the baby has the safest environment to develop.".
Related Posts
Comments
About the Author
Johnna Kelly, healthe news contributor, is a manager of public affairs and marketing at Advocate Christ Medical Center in Oak Lawn. She is a former newspaper reporter and spent nearly 10 years as a public relations professional working for state and county government. During her time as a communications staffer for the Illinois General Assembly, she was integral in drafting and passing legislation creating Andrea's Law, the nation's first murderer registry. In her spare time, she volunteers at a local homeless shelter, enjoys traveling, photography and watching the Chicago Bulls.