Wrestlers at high risk for skin infections, study finds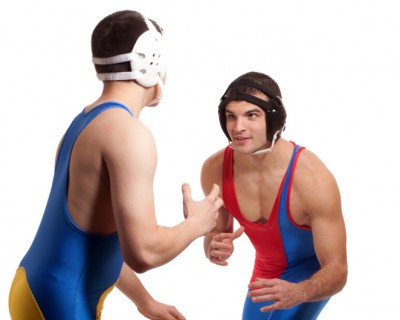 High school wrestlers sweat and strain to be number one in the competition.
Unfortunately, all that work on the mats puts prep grapplers in first place on the list of highest number of skin infections among teen athletes, according to a recent study.
The first national survey of skin infections among prep athletes found that wrestlers accounted for nearly 75 percent of the total number of athletes with skin infections. Football players were a distant second in rate of infections at about 18 percent. A total of 22 sports were studied.
The results, published in the Journal of the American Academy of Dermatology, indicated the body parts most affected were the head and face at 25.3 percent followed by the forearm at 12.7 percent. The researchers noted approximately 60 percent of skin infections were bacterial and 28 percent was tinea fungus (ringworm). Also, herpes-related cold sores and fever blisters encompassed 5 percent of infections with the remaining 3 percent being an assortment of other infections.
"These results are not altogether surprising as skin infections have long been associated with close contact sports such as wrestling," says Dr. Vivek Iyengar, a dermatologist at Advocate South Suburban Hospital in Hazel Crest, Ill. "But, this new information clearly shows physicians, coaches, athletes and parents need to take steps to prevent skin issues with high school wrestlers."
Skin infections can easily and quickly spread among and between wrestling groups because of the close contact the sport requires. Severe flare-ups impact entire teams and events. Just recently, high school wrestling matches have been canceled due to skin infection outbreaks in Washington and New Jersey.
Dr. Iyengar says that while most of the common skin infections are not dangerous and can be cleared up within a week with proper treatment, there are some infections that can lead to more serious eye disease and neurologic problems if left untreated.
"Because of ease of transmission and potential to lead to more serious conditions, even minor skin infections in athletes should be examined and treated by a health care professional," says Dr. Iyengar. "It's important that the benefits of high school sports are not undone by undiagnosed or untreated infection."
Dr. Iyengar says that like many dangers to our health, prevention is key to avoiding the negative effects of skin infections. He says that the U.S. Centers for Disease Control and Prevention currently recommends that athletes take showers directly after each competition, they should clean their hands regularly and keep cuts and scrapes clean and covered until healed.
He also notes that since most of the skin infections happen on or near the head and face, athletes, managers, coaches and trainers should probably devote more time and attention to disinfecting headgear and helmets.
Related Posts
Comments
About the Author
Nate Llewellyn, health enews contributor, is a manager of public affairs at Advocate Medical Group. Nate began his career as a journalist and builds daily on his nearly 20 years of writing experience. He spends most of his free time following his wife to their two sons' various activities.