Woman thrives after heart transplant and battling cancer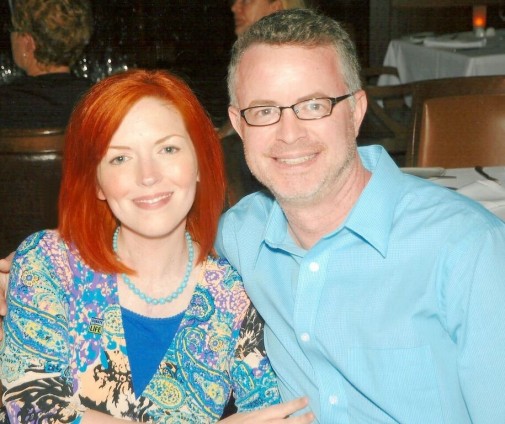 At only 34 years old, Gwendolyn Westlund is both a cancer survivor and heart transplant recipient. Having come close to death multiple times, Westlund now devotes her days to giving back.
The miraculous journey to where Westlund is today began back in 2002 when she was diagnosed with Hodgkin's Lymphoma at 21 years old. She was successfully treated with radiation therapy, and her cancer went into remission a year after the initial diagnosis. Unfortunately, this was just the start of a long list of health issues that Westlund would battle.
Five years after her cancer went into remission, Westlund learned that the radiation that cured her cancer had also caused scarring around her heart.
"After a two-week hospital stay with double lung pneumonia, I was diagnosed with congestive heart failure due to mitral valve prolapse," Westlund recounts. "I managed to keep my heart problems in check over the next five years by maintaining a healthy diet and taking my prescribed medications."
It wasn't until May 2013 that Westlund's health took an even greater turn for the worse as she went into end-stage heart failure.
"I fell very ill one day and eventually was transported to Advocate Christ Medical Center in Oak Lawn. I underwent numerous surgeries and blood transfusions and received both a left ventricular assist device (LVAD) and a temporary external right ventricular assist device (RVAD)," says Westlund. "I woke up after being sedated for eight days to learn I needed a new heart and had been placed on the transplant waiting list."
Just as she handled her previous health obstacles, Westlund was a fighter and maintained her 'never give up' attitude. After a two-month hospital stay and three months of waiting at home, Westlund received "the call"  in late October 2013 that a donor's heart had been found for her.
The transplant surgery was successfully performed by a team of physicians at the Advocate Heart Institute at Christ Medical Center.
Today, almost two-and-a-half years after her transplant, Westlund now spends her time paying it forward by participating in cancer walks or through her group, Recycled Life Warriors, by mentoring other transplant patients and their families and organizing community events that promote organ, blood and tissue donations.
While not always as severe as Westlund's story, many cancer patients encounter heart issues as a result of cancer treatment. That is why many hospitals are now providing services that combine cancer and heart care.
The Advocate Heart Institute at Christ Medical Center recently launched a Cardio-Oncology program that aims to prevent or minimize heart complications that may be caused by cancer treatments.
"While heart disease in cancer patients or survivors may be associated with age or lifestyle factors, both radiation therapy delivered to the chest and chemotherapy can potentially damage the heart muscle and valves, leading to heart failure," says Dr. Sunil Pauwaa, onco-cardiologist at the Advocate Heart Institute on staff at Christ Medical Center. "Our new program provides comprehensive heart care to cancer patients to prevent, monitor and manage heart issues that develop as a result of treatment."
Dr. Pauwaa explains that the ultimate goal of the new program is to identify those cancer patients who have or who are at risk of developing heart disease and carefully monitor their heart function during and after cancer treatment. This allows the oncologists to continue their life-saving treatment while minimizing cardiac risk.
"We monitor a patient's heart function with the most advanced echocardiographic and imaging technologies that help us detect changes in the heart that occur before the development of heart failure," says Dr. Pauwaa. "Early intervention allows our team to develop an individualized care plan that might include modifying the patient's cancer treatment or prescribing cardioprotective medicines."
Related Posts
Comments
About the Author
Julie Nakis, health enews contributor, is manager of public affairs at Advocate Children's Hospital. She earned her BA in communications from the University of Iowa – Go Hawkeyes! In her free time, she enjoys spending time with friends and family, exploring the city and cheering on the Chicago Cubs and Blackhawks.