Add barley to your diet to boost your health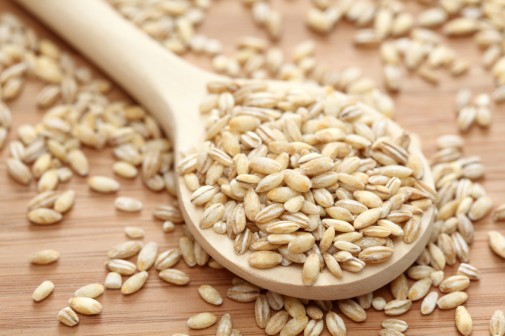 Researchers at Lund University in Sweden found a new superfood that you may want to add to your diet – barley.
Barley can reduce blood sugar levels and lower the risk for diabetes. The special mixture of dietary fibers found in barley stimulates the increase of good bacteria and helps to release important hormones, which can also help to reduce your appetite and risk for heart disease.
In the study, participants were asked to eat bread mostly made out of barley kernels (up to 85 percent) and were later examined for risk indicators of diabetes and cardiovascular disease. The researchers found that the participants' metabolism improved, and their blood sugar, insulin levels and appetite decreased.
"It is known that diets rich in whole grains and low in fat may reduce the risk of heart disease," says Dr. Megan Stock, a family medicine physician at Advocate Lutheran General Hospital in Park Ridge, Ill. "Adding barley, as well as other whole grains to your diet may have positive health effects. Whole grain foods also fill you up, resulting in consuming fewer calories and losing weight."
Dr. Stock suggests the following to help incorporate barley into your diet:
Eat whole grain bread that contains barley
Add some whole grain barley to soups or stews; check out this healthy Mushroom and Barley Soup recipe
Use it as an alternative to white rice or potatoes
Cook barley and make as a hot cereal
Stir some barley into your salad
Add barley in stuffing or casseroles
Make barley into pilaf or risotto
The following barley pilaf recipe is a perfect side dish for chicken or fish.
Ingredients
Makes four servings
1 tbsp. olive oil
1 cup chopped onion
1 cup sun-dried tomatoes cut into strips (if you use tomatoes that come in oil, add them first to the pan and omit the tablespoon of olive oil)
4 cups baby spinach
1/4 cup slivered almonds
2 cups cooked barley
2 tbsp. parsley
Directions
Heat oil in large frying pan. Sauté onions until translucent and add tomatoes, spinach, and almonds. Stir in barley. When spinach is wilted and barley is hot, sprinkle with parsley. Serve immediately.
Each serving contains about 219 calories, 8g fat (less than 1g saturated fat, no trans fat, and no cholesterol), 102mg sodium, 35g carbohydrate, 7g dietary fiber, 2g sugars, and 6g protein.
To learn more about what happens to your body when you eat barley, watch this short video.
Related Posts
Comments
About the Author
Sonja Vojcic, health enews contributor, is a marketing manager at Advocate Health Care in Downers Grove, Ill. She has several years of international public relations and marketing experience with a Master's degree in Communications from DePaul University. In her free time, Sonja enjoys spending time with her family, travelling, and keeping up with the latest health news and fashion trends.