Online stalking prevalent in teen relationships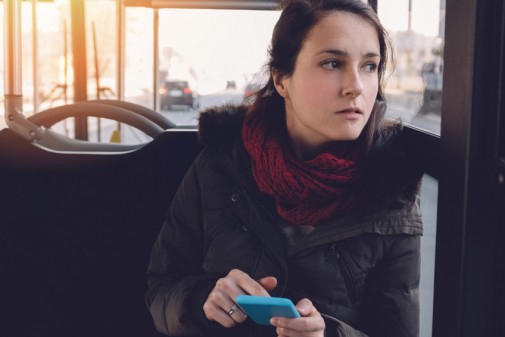 Snapchat, Instagram and text messages may seem like harmless ways for teens to stay connected with their dates; however, new research shows it can lead to online stalking and other unhealthy relationship patterns.
The University of Michigan study examined the association between relationship anxiety and electronic intrusion in high school dating relationships. The term electronic intrusion is where social media is used to intrude into a dating partner's privacy by monitoring their whereabouts and pressuring them for constant contact.
"For anxiously attached individuals, access to digital information about a dating partner coupled with the capability for constant contact may make it difficult to negotiate digital boundaries," said Lauren Reed, the study's lead author, in a news release.
More than 700 high school students were asked about their current or most recent relationship, in addition to their internet and social media usage. The students reported sending or receiving between 51-100 text messages a day and spending about 22 hours a week using social media. They were also asked a variety of questions regarding how they use social media, text messages, e-mails, chats and phone calls in their relationship.
The results show that girls more often than boys (33 percent versus 24 percent) used calls, texts and other messages to monitor their partner's whereabouts, activities and friends.
Both girls and boys (28 versus 21 percent) said they pressured their partner to respond quickly to calls, texts and other messages. In addition, they admitted to sending so many messages that it made their partner uncomfortable.
Privacy also seemed to be an issue as 16.9 percent of girls and 13 percent of boys admitted to looking at their partner's private information such as texts and e-mails without permission.
While the statistics show that girls more frequently engaged in electronic intrusion, Reed said the female students considered it a "necessary component" to maintaining a relationship. At the same time, Reed said the boys used electronic intrusion to maintain control in their relationships.
The study concluded that social media may create a "cycle of anxiety." Social media can trigger relationship anxiety, but then alleviates anxiety when teens are keeping tabs on their partners.
Judy Petrushka, a domestic violence outreach specialist at Advocate Good Samaritan Hospital in Downers Grove, Ill., says controlling behavior is a warning sign for an unhealthy or potentially abusive relationship.
"Digital abuse can be perpetrated equally by boys or girls. Parents should have conversations with their kids about social media safety," says Petrushka. "Talking about safe use of social media can be a great place to explore concepts of trust, boundary setting, what makes for a healthy relationship and identifying red flags."
For all relationships, young or old, Petrushka suggests having a conversation to establish digital boundaries.
She suggests the following questions:
Should the relationship status be made official on social media?
Is it ok to post, tweet or comment about the relationship?
Is it okay to tag or check in?
Is it okay to follow each other's friends?
When is it okay to text each other and what is the expectation for return messages?
Is it ok to use each other's devices?
"Feeling threatened, afraid, manipulated or suffocated may indicate an unhealthy or potentially abusive relationship," says Petrushka.
Related Posts
Comments
About the Author
Johnna Kelly, healthe news contributor, is a manager of public affairs and marketing at Advocate Christ Medical Center in Oak Lawn. She is a former newspaper reporter and spent nearly 10 years as a public relations professional working for state and county government. During her time as a communications staffer for the Illinois General Assembly, she was integral in drafting and passing legislation creating Andrea's Law, the nation's first murderer registry. In her spare time, she volunteers at a local homeless shelter, enjoys traveling, photography and watching the Chicago Bulls.