A day in the life of a cardiac rehab team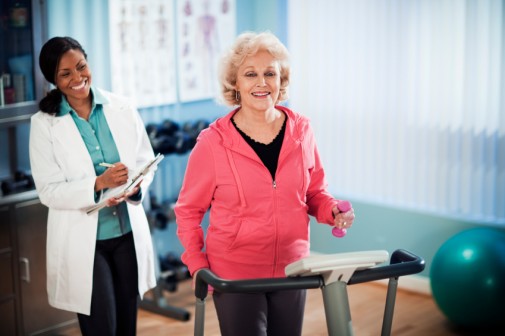 Every day our cardiac rehabilitation staff functions as an intertwined team to provide the best care for our patients. Our team at Advocate Condell Medical Center includes registered nurses, exercise physiologists, exercise specialists and a dietitian in an outpatient atmosphere.
We see patients at various times in their recovery from a heart attack, coronary stenting or open heart surgery. They attend three times a week for 60 minutes of fun-filled cardiovascular exercise. We also offer educational lectures for 30 minutes on Wednesdays that helps us to expand on other health topics besides exercise.
Our days can be long and busy with each day beginning at 6:00 a.m. and ending around 6:30 p.m. We offer seven exercise classes a day, with a total of up to 90 patients a day. That's a lot of names to learn and remember! Every exercise class has its own dynamic vibe and the music choice is always a hot topic. One class may like country music and another may forbid us from playing it and only wants us to play classic rock. In one class we even had a participant telling jokes for the staff to read to the class for "comedy hour." We encourage these fun interactions because we want all the patient's to have a good time with humor while exercising.
On a regular day in cardiac rehab, we work together as a cohesive team. One cardiac staff member monitors each patient's telemetry rhythm while another staff member is on the floor. Some of the responsibilities include taking the patient's blood pressures and blood sugar level, assisting the patient with setting up the exercise equipment, encouraging the patient to increase their exercise workload, engaging the patient in conversation, leading resistance training exercises and flexibility exercises and more.
People say eyes are the window to the soul, and we really are able to tell if the patients are doing ok by making eye contact with them. Often we can spot problems ahead of time by seeing a glossed-over, blank expression and can intervene before it escalates.
One day, Colleen, an exercise specialist, was leading the group in resistance training exercises when she noticed a patient had stopped following with the group. She asked him if he was ok and he didn't respond to her question. Mary Ann, a registered nurse, came to assist the patient to a chair because he stated he was dizzy. Colleen quickly retrieved a blood pressure cuff and IPAD to assist Mary Ann in treating the patient. During that time, Emily, an exercise specialist, led the rest of the class to another area of the room. After assessing the patient's blood pressure, telemetry rhythm and responsiveness to questions, the team requested further medical assistance by calling the rapid response team. This is a perfect example of the harmony that the cardiac rehab team has with each other.
We also really take the time to get to know our patients on a personal basis, and this extra attention helps us to provide a whole new level of care for them while they are in our program. For instance, during an orientation for a new patient, they mentioned having feelings of depression/mood changes after having their cardiac procedure. Denise, an exercise physiologist, has had the unfortunate experience of having postpartum depression and so she was able to closely identify with the patient's feelings and help talk them through the importance of seeking medical assistance. Since Denise was willing to be open, the patient felt comfortable to share her personal experience.
Because of our close relationships, the patients' graduation day is filled with excitement and sadness. Our cardiac rehab team always receives food, gifts and hugs on this last day, but most of all, we are rewarded by the patient making heart healthy lifestyle changes.
Related Posts
Comments
About the Author
Advocate Condell Medical Center's Cardiac Rehabilitation Program is designed to help improve overall health by identifying and reducing the risk factors that contribute to cardiovascular disease. The program's team of nurses, exercise physiologists and dietitians develop and oversee individualized exercise and education sessions designed to help meet each patient's goals.