Meditation and exercise can help to fight depression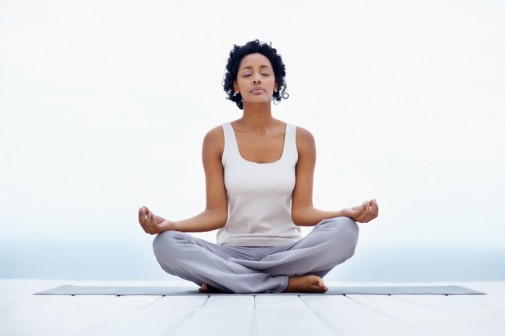 Researchers may have hit a one-two punch in the fight against depression.
They say meditation and aerobic exercise is a winning combination.
Fifty two participants in the Rutgers University study did 30 minutes of meditation followed by 30 minutes of moderate intensity aerobic exercise twice a week. At the end of the eight-week program, the 22 participants with major depression reported significantly less severe symptoms. Even the other 30 people, those without depression, felt better.
The mind-body connection is a message Rev. Fred Rajan has been championing for decades.
"Meditation is tremendously helpful on its own, but combining it with exercise is a true win-win because of the physical and psychological benefits," says Rajan, vice president of mission and spiritual care at Advocate Condell Medical Center in Libertyville, Ill. "Anyone can practice meditation at almost any time. So it's an easy way to improve how you feel whether or not you have depression."
Each year almost 7 percent of adults in the United States experience major depression. The National Institute of Mental Health lists the following signs and symptoms:
Persistent sad, anxious, or "empty" feelings
Feelings of hopelessness or pessimism
Feelings of guilt, worthlessness, or helplessness
Irritability, restlessness
Loss of interest in activities or hobbies once pleasurable, including sex
Fatigue and decreased energy
Difficulty concentrating, remembering details, and making decisions
Insomnia, early-morning wakefulness, or excessive sleeping
Overeating, or appetite loss
Thoughts of suicide, or suicide attempts
Aches or pains, headaches, cramps, or digestive problems that do not ease even with treatment
The most common treatments for depression are medications that influence brain chemicals and regulates emotions, and talk therapy. Health care experts say that while these treatments can be helpful, they have drawbacks, too. Medication can have side effects and talk therapy can take time and commitment.
For the study, researchers sought to investigate alternatives to traditional depression treatments. They give the participants special training to focus their attention away from their problems and other negative thoughts. This is a key component in easing anxiety and increasing motivation, researchers say.
Rev. Rajan adheres to that principle as well. He says it's not always easy to do, but the rewards can be significant.
"Sometimes it's hard to refocus our thoughts away from the negative and toward the positive, but learning to do that can be so valuable," he says. "When we dwell less on the difficulties in our life we can focus more on all the good in our life."
Related Posts
Comments
About the Author
Kathleen Troher, health enews contributor, is manager of public affairs and marketing at Advocate Good Sheperd Hospital in Barrington. She has more than 20 years of journalism experience, with her primary focus in the newspaper and magazine industry. Kathleen graduated from Columbia College in Chicago, earning her degree in journalism with an emphasis on science writing and broadcasting. She loves to travel with her husband, Ross. They share their home with a sweet Samoyed named Maggie.