Tai chi may help ward off heart disease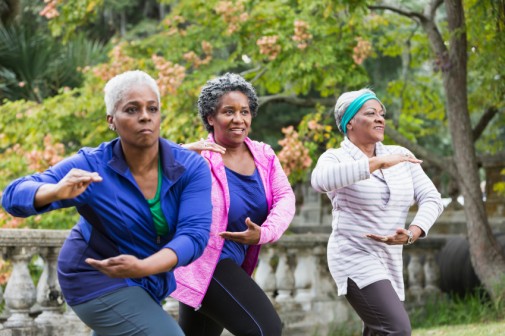 The moving meditation of tai chi may be good for your heart, according to recent research.
Tai chi is an ancient Chinese tradition that involves a series of low-impact movements performed in a slow, focused manner and accompanied by deep breathing. It is known for improving muscle strength, flexibility and balance.
A study, published by the British Journal of Sports Medicine, analyzed data from 33 studies involving nearly 1,600 adults in their 60s and 70s. Most of the participants had one or more chronic conditions such as heart failure, osteoarthritis, breast cancer or chronic obstructive pulmonary disease (COPD).
Researchers compared the participants who practiced tai chi with those who did another form of exercise. Overall the researchers found that people who practiced tai chi showed "greater improvements in walking, muscle strength and quality of life."
Dr. Thomas Discher, cardiologist at Advocate Heart Institute at Good Samaritan Hospital in Downers Grove, Ill., says regular exercise, including tai chi, leads to heart-healthy habits that can counter conditions such as obesity, high blood pressure and poor cholesterol levels. All of these conditions can contribute to heart disease.
According to the Centers for Disease Control and Prevention, an estimated 610,000 Americans die each year from heart disease.
Dr. Discher says tai chi can calm the nervous system and reduce stress, which is also a contributor to high blood pressure and heart disease.
"When we are stressed out, our bodies are running on pure adrenaline. Our blood pressure rises, our muscles tense up and we are basically in a fight or flight mode," says Dr. Discher. "In contrast, tai chi's pace, fluid movements and deep meditative breathing activates our parasympathetic reaction to calm the mind and body."
Dr. Discher says the physical and mental health benefits of tai chi may be appealing to people with chronic health conditions or those who simply are looking for a more meaningful activity to replace daily walking.
Related Posts
Comments
About the Author
Johnna Kelly, healthe news contributor, is a manager of public affairs and marketing at Advocate Christ Medical Center in Oak Lawn. She is a former newspaper reporter and spent nearly 10 years as a public relations professional working for state and county government. During her time as a communications staffer for the Illinois General Assembly, she was integral in drafting and passing legislation creating Andrea's Law, the nation's first murderer registry. In her spare time, she volunteers at a local homeless shelter, enjoys traveling, photography and watching the Chicago Bulls.