Routine colonoscopy finds woman's early-stage colon cancer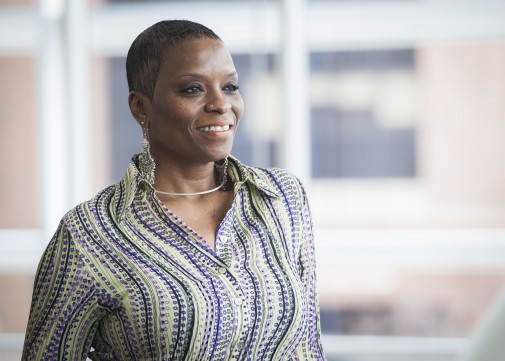 During a routine checkup, Jennifer Hoskins' gynecologist mentioned that she should schedule a colonoscopy, since she had recently turned 50.
The American Cancer Society recommends men and women at normal risk begin screening at age 50.
"I'm not one to put things off, especially when it comes to my health, so I scheduled it right away," Hoskins says.
She had a colonoscopy with Dr. Michael Flicker at Advocate Illinois Masonic Medical Center in late December 2015. Dr. Flicker found a suspicious growth on her colon and ordered a biopsy. The next day, he called to tell her what they discovered; she had colon cancer.
"When I told my mom about my diagnosis, she was in shock," Hoskins says. "She said, 'You don't look sick.' And I didn't feel sick either. There were truly no symptoms or warning signs."
In early January, Hoskins met with Dr. Joaquin Estrada, a colon and rectal surgeon at Illinois Masonic, to discuss her options. Dr. Estrada ran some tests and found that her tumor was isolated. He recommended surgery.
"I can't stress the importance of regular colon cancer screening enough," says Dr. Estrada. "Colon cancer is preventable, treatable and very beatable—when it is caught early—and screening is key to early detection."
That's one reason why Dr. Estrada and his colleagues at Illinois Masonic and throughout the Advocate Health Care system have partnered with the American Cancer Society in a commitment to screening 80 percent of patients age 50 and older for colon cancer by 2018. According to the American Cancer Society, achieving an 80 percent screening rate could prevent more than 200,000 cancer deaths within the next 20 years.
"We are doing everything we can to increase colon cancer screening rates," Dr. Estrada says.
In 2015, Illinois Masonic launched a direct access screening colonoscopy program, which allows patients who meet certain health criteria to save time and money by bypassing a preliminary appointment with a gastroenterologist before having a colonoscopy. This has reduced colonoscopy wait times from a few months to a few weeks, Dr. Estrada says.
On January 22, 2016, Hoskins had surgery with Dr. Estrada to remove her tumor.
"Because we caught her cancer early and her cancer hadn't spread, we were able to treat Jennifer with surgery alone and she doesn't need chemo or radiation," Dr. Estrada says. "This is huge for her health and quality of life. At this point, I can say with confidence that she is cancer-free."
For Hoskins, this is a huge relief. And because colon cancer can run in families, she told her son, who is in his early 20s, that he should talk to his doctor about earlier and more frequent colon cancer screening. Hoskins says she has also been stressing the importance of regular colonoscopies with her friends who are turning 50.
"I feel good. I'm blessed," she says. "So much happened within such a short period of time. I'm just so grateful I didn't put off my colonoscopy. It could have been a very different story."
Related Posts
Comments
About the Author
health enews staff is a group of experienced writers from our Advocate Aurora Health sites, which also includes freelance or intern writers.