Spike in 'Tommy John' surgeries among young baseballers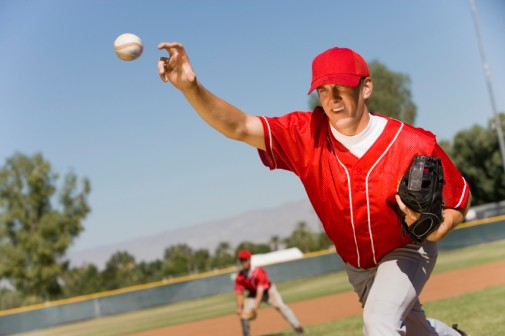 There has been a startling increase in youth baseball players undergoing "Tommy John" elbow surgery in recent years, according to a new study.
Tommy John surgery, named for the Los Angeles Dodgers pitcher who first had the procedure in 1974, involves replacing a damaged ulnar collateral ligament (UCL) in the elbow with a tendon from another part of the body.
Researchers analyzed data on baseball-related injuries in New York from 2002 to 2011 and reported that UCL reconstructions tripled over this time period. Results revealed that almost all the growth occurred in just two age groups, 17- to 18-year-olds and 19- to 20-year-olds.
While the substantial increase in Tommy John surgical reconstructions among professional athletes has been well documented, few studies have looked at the rate among youth and amateur athletes.
"This study confirms something orthopedic physicians have been seeing for quite some time," says Dr. Venkat Seshadri, an orthopedic specialist at Advocate South Suburban Hospital in Hazel Crest, Ill. "Not only are youth arm injuries more common and severe, but people are actively seeking out Tommy John surgery now."
Dr. Seshadri says that Tommy John surgery has a high success rate at the professional level, with about 80 percent of Major League Baseball (MLB) pitchers returning to their MLB duties. But there are significant factors to be considered for young players who need to, or choose to, undergo the UCL reconstruction.
"Recovery from UCL reconstruction can take a year, or more, which is tough for high school and college players," he says. "And even with proper patience and rehabilitation, surgery is not a guarantee against future problems."
He says that in many cases, UCL injuries can be treated effectively with rest, physical therapy and nonsteroidal anti-inflammatory drugs (NSAIDs) such as aspirin and ibuprofen. But, Dr. Seshadri adds, prevention is the most effective way to avoid UCL issues, and most throwing-related injuries.
"Overuse injuries such as UCL tears and ruptures are preventable with things like pitch count limits and encouraging kids to give themselves an offseason by playing some other sports, as well," he says. "Kids just want to play, even if it means a little pain, but parents and coaches need to look out for the long term well-being of young athletes."
The American Sports Medicine Institute (ASMI) has issued a series of recommendations, including pitch count limits, for all youth baseball ages. ASMI also encourages coaches and parents to respond to signs of fatigue (such as decreased ball velocity, decreased accuracy, upright trunk during pitching, dropped elbow during pitching or increased time between pitches).
If a youth pitcher complains of fatigue or looks fatigued, experts recommend to let them rest from pitching and other throwing.
Related Posts
Comments
About the Author
Nate Llewellyn, health enews contributor, is a manager of public affairs at Advocate Medical Group. Nate began his career as a journalist and builds daily on his nearly 20 years of writing experience. He spends most of his free time following his wife to their two sons' various activities.