Do Fitbit type devices help us live healthier?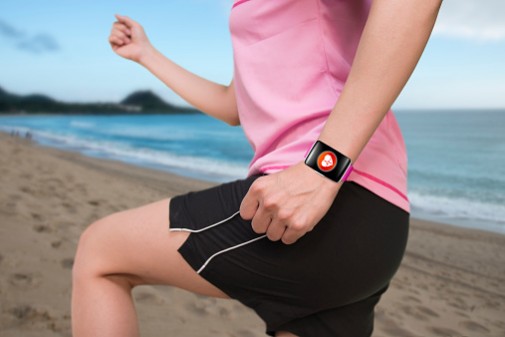 As a physician and exercise enthusiast, I've joined the growing ubiquitous club of Fitbit® wearers, as I wanted to explore what this technology could do for me. I previously used the Apple Health app on my iPhone, but had been disappointed that a static phone app just tells me what I already know.
I have been delighted that the Fitbit Flex, which I've worn for two months, is a winking robot on my wrist. She coaches me on my daily exercise as I go through my workday and my weekend. She sends me texts that challenge me to hit my daily step goal; she congratulates me when I achieve it. The FitBit software also has a dry sense of humor and will joke that "I see you're an Overachiever today!" if you push beyond your goal.
I'm just one of thousands of Advocate Health Care associates to put on the device each morning. The leaders of Advocate's Healthe You®, a program designed to support the health care system's commitment to a culture of health and wellness, conducted a survey and found that 70 percent of respondents expressed strong interest in a Fitbit type program. They jumped into action to tap into the enthusiasm.
Healthe You Manager Kristyn Mitich and her team then designed an incentive program  – complete with a $50 rebate – for achieving a step goal using activity tracking devices such as Fitbit. To date, more than 3,500 Advocate associates have signed up; collectively they've taken more than 1.25 billion steps.
However, Fitbits and other wearable devices have been met with appropriate skepticism by many thoughtful people. In the March 20 issue of the New York Times, Alex Hutchinson, a sports and fitness writer, expounds on this in his piece, How a Fitbit May Make You a Bit Fit.
Critics have pointed out that using such low-tech devices as a jump rope is an excellent piece of portable fitness equipment that, used on a regular basis, can produce superior fitness results. Fitbits have been criticized as not being totally accurate, and perhaps over-counting steps and other activity. My sense is those criticisms sometimes miss the larger value of these wearables for most people – who are neither triathletes nor gym rats.
The key point is that anything that motivates us to be more active is generally a good thing. Fitbits and similar wearables persuade us to join a community of like-minded friends who gently compete with and support each other to achieve personal goals. Some even have these friends in different cities.
Programs like Healthe You® offer the opportunity to create that community within your workplace, if you want.
Here are some take-home thoughts:
Many studies show that there is incredible value and significant health benefits in getting more physically active, no matter what weight you're at now.
It is important to set quantitative goals for time spent walking and participating in more vigorous physical activities.
A device that helps coach and guide you through the next steps in your health journey can be very useful.
If you have health issues, please discuss your health and fitness plan with your personal physician before you begin.
Related Posts
Comments
About the Author
Dr. Prentiss Taylor is a Preventive Medicine and Internal Medicine physician with Advocate Medical Group. He is the medical director of the Advocate At Work division that advises many area companies on improving their employee health services using onsite clinicians as well as telephonic health coaches.