A father's life saved by son's CPR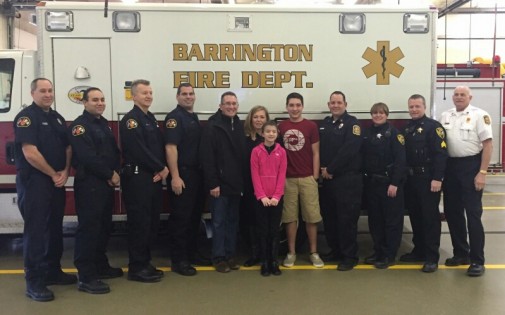 The Gould family had a busy Saturday planned on the night of February 6. Tom was about to take his daughter, Grace, to a friend's house. Brendan, Tom's 16-year-old son, was preparing to leave for a school dance; and Tom's wife, Noreen, was on her way home from the city visiting with a friend.
Right before Tom went to bring Grace to her friend's house, he collapsed and went into cardiac arrest in his home in Barrington, Ill.
Brendan and Grace immediately called 911, and Brendan began to perform cardiopulmonary resuscitation (CPR) on his father.
Brendan had not been trained to do CPR but remained calm as the 911 dispatcher coached him on how to perform it as they waited for emergency responders to arrive. Grace called her mother to notify her and went outside of their home to flag down paramedics, fire and police departments.
First responders arrived within a few minutes and took over CPR. Through CPR and defibrillation, Tom's heart began showing signs of activity again, and he was immediately transported to Advocate Good Shepherd Hospital in Barrington.
Tom went directly into the cardiac catheterization lab at the hospital for emergency intervention to see if there were any blockages in his heart; there were none. Then, Dr. Hetal Gandhi, a cardiologist with Advocate Heart Institute at Good Shepherd Hospital, along with the rest of the cardiac and critical care teams, immediately instituted a therapeutic hypothermia protocol.
"Research shows in certain cases that therapeutic hypothermia treatment can improve neurological recovery in an unconscious patient with spontaneous circulation after having an out-of-hospital cardiac arrest," says Dr. Gandhi. "This specific treatment helps to protect brain cells and other organs by cooling and re-warming the body temperature."
After an 11-day stay at Advocate Heart Institute at Good Shepherd Hospital, Tom was ready to go home.
Tom was discharged with new equipment, including an implantable cardioverter defibrillator (ICD), otherwise known as a pacemaker, but was able to return home with no residual heart issues, blockage or damage to the heart muscle.
"I believe everyone should at least know hands-on CPR," says Dr. Gandhi. "Every minute counts, as each minute that passes equates to a 10 percent less chance of survival."
Sudden cardiac arrest is a lethal condition in which the heart unexpectedly stops beating, causing loss of consciousness and breathing, he says.
"It usually results from electrical disturbance (arrhythmia) in the heart, leading to the loss of its pumping action, causing cessation of oxygen rich blood to the brain and the rest of your vital organs," Dr. Gandhi adds. "Outside of the hospital, cardiac arrest accounts for an estimated 350,000 deaths each year. Those who survive are at higher risk of neurological damage, such as a hypoxemic brain injury from lack of oxygen."
"As soon as you see someone collapse, call 911 and begin hands-on CPR (chest compression) immediately until other help arrives," he says. "By doing this, you can improve the victim's survival rate by double or triple. The quick action taken by Tom's son helped to save Tom's life."
Due to the swift response of Tom's son and daughter calling 911 and performing CPR, Tom is able to share his story today.
"I beat the odds–very few patients survive from a sudden cardiac arrest," says Tom. "I attribute my good fortune to the protection of God, the extraordinary team of first responders from the Barrington Police and Fire Departments and the superb and skilled techs, nurses and doctors at Good Shepherd Hospital who worked tirelessly to help me become a miracle man of survival from sudden cardiac arrest."
Related Posts
Comments
About the Author
Liz Donofrio, health enews contributor, is a marketing specialist at Advocate Health Care. As a newlywed, she is happy to be done planning her wedding and enjoying spending time with her husband and new extended family. In her free time, you can find Liz cooking new tasty recipes for her family, attending Chicago sporting events and chasing after her shih tzu-yorkie, Buttons.