Is it safe to let your baby sleep in the car seat?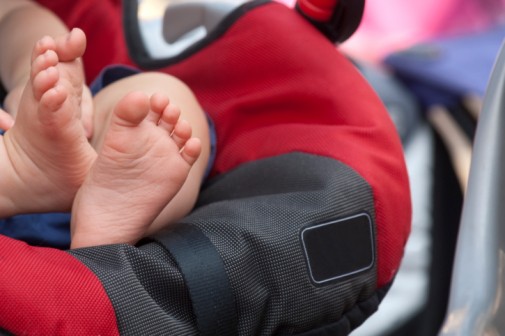 When a baby falls asleep in his or her swing, stroller or car seat, is it safe?
Parents should move young children to a crib or bassinet when they are sleeping to help prevent risk of injury or death, a study warns. Researchers involved in the study, published in the Journal of Pediatrics, reviewed the deaths of 47 children under the age of two that occurred in sitting and carrying devices between April 2004 and December 2008.
They found that all but one of these deaths was caused by suffocation. Seventy-five percent of the deaths occurred in car seats, and more than 50 percent of the car seat deaths were caused by strangulation from the straps. The other babies died in their slings, swings, bouncers or strollers.
"Many parents use sitting or carrying devices, not realizing that there are hazards when they do this," said Dr. Erich Batra, lead study author from Penn State Medical Center, in a news release.
The shortest amount of time it took for an infant to die after last being seen alive was four minutes, according to the study. It is not known in all cases whether the babies were awake or asleep when the deaths occurred.
"It is understandable to not want to disturb a baby who has finally fallen asleep in the car seat or swing, but the position and angle of these carrying and sitting devices can make it harder for the baby to get oxygen," says Dr. Asit Vora, pediatrician with Advocate Children's Hospital in Oak Lawn, Ill.
The reason for lack of oxygen is that the baby's head can either flop forward or fall backwards, obstructing the airway. In either case, infants have poor neck control and may not be able to correct their position.
Dr. Vora believes sitting and carrying devices do not do a very good job at keeping a child in a safe position for a long period of time.
"Car seats are made for babies of a certain size and weight," adds Dr. Vora. "Some babies are bigger and some are smaller, which leads to the increased chance that the infant can shift from a safe position to a dangerous position over time."
According to the American Academy of Pediatrics, sleep deaths are the most common cause of death among American infants one to 12 months old.
Dr. Vora cautions that the devices often obscure a direct view of the baby's face and chest due to expandable shade or other covering and makes it harder to see if the baby is still breathing or changing colors.
He recommends parents and caregivers follow the academy's safe sleep policy, which includes the following tips:
Infants should sleep on their back on a firm mattress, covered by a fitted sheet that meets current safety standards.
Keep the following away from the baby's sleep area: soft objects, loose bedding, such as sheets and blankets, bumper pads, or any objects that could increase the risk of suffocation or strangulation.
Related Posts
Comments
About the Author
Kate Eller was a regional director of public affairs and marketing operations for Advocate Health Care. She enjoys road trips, dogs, minimalism, yoga, hiking, and "urban hiking."