Get to know your nurses – part III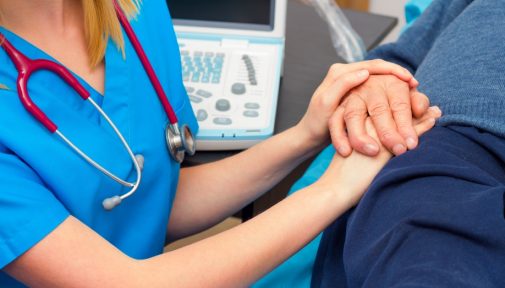 health enews continues our salute to nurses with part III of our week-long Q&A series.
In honor of National Nurses Week (May 6-12), we asked some esteemed caregivers to share their thoughts on the profession. Here's what they had to say:
Q: Is there something about you that people would be surprised to learn?
"I have worked in the operating room for most of my career, but watching the initial skin incision still creeps me out!" – Catherine Weindel, RNFA, Advocate Christ Medical Center, Advocate Lutheran General Hospital
Q: For someone who might be thinking about becoming a nurse, what would you tell them?
"Dr. McDreamy does not work here! Just kidding, nursing is one of the most challenging professions, but it is also one of the most rewarding." –Lena Burns, BSN RN-BC, Advocate Good Samaritan Hospital
"Nursing is one of the most rewarding things you can do for a living. I wouldn't even call it a job, because if taking care of people is your passion, then you will never work a day in your life." –Jess Krusenoski, RN-BC, Advocate Good Samaritan Hospital
Q: How did you find your calling as a nurse?
"For some nurses, it is truly a calling; however, I can honestly say that I entered the nursing profession because my girlfriend was going to be a nurse. I thought, well, I will try it. I knew nothing about what I was getting myself into! After 34 years as a registered nurse, it truly is more than a career. You continue to learn and grow every day." –Dara Nuzzo, OB Nurse, Advocate Trinity Hospital
"Ever since I was 3, I knew I wanted to be a nurse. In pre-school, we traced an outline of our body and were told to draw what we wanted to be when we grew up; I drew myself as a nurse." –Nicole Leone, Nurse Clinician, Advocate Sherman Hospital
Q: What do you find most rewarding about being a nurse?
"Being able to help patients and families during some of the hardest time of their life. If there is something I can do to make it even a little bit better or easier for them, I know I have done my job." –Jennifer Aversano, Oncology Nurse Navigator, Advocate Lutheran General Hospital
"I enjoy coming into work and then you meet someone who may not be feeling well, lying on their back. But by the time you discharge them, they are up smiling and walking out healthy." –Sandra Twillie, RN, Advocate Trinity Hospital
Related Posts
Comments
About the Author
Tiffany Nguyen, health enews contributor, is a public affairs and marketing intern at Advocate Support Centers in Downers Grove, IL. She is a graduate of Northern Illinois University with a degree in public health. She is currently pursuing a Master's in Business Administration focusing specifically on healthcare management at Lewis University. Tiffany enjoys hanging out with her friends, exploring new restaurants, and binge watching Netflix shows.