CDC releases "poop in the pool" report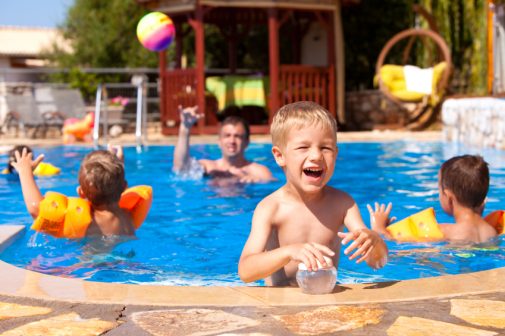 Taking your children for a dip in a public pool or waterpark this Memorial Day Weekend? You may want to think twice or at least, literally, test the water before they jump in.
In its annual "poop in the pool" report, the U.S. Centers for Disease Control and Prevention (CDC) shares some dirty details related to bacteria and germs in your favorite swimming pool, and the statistics are startling.
Based upon CDC testing of 48,632 water venues across the nation, including public pools, hot tubs and water parks, 80 percent had at least one safety or hygiene violation. One in eight of the pools was closed because the violation was serious. One in five kiddie pools was closed for the same reason.
So what is in the water? In 58 percent of the pools, filter samples were positive for E. coli, which is found in human feces and the gut. Fifty-nine percent of the pools tested positively for pseudomonas aeruginosa, a bacterium causing skin rashes and ear infections. And in other pools, even a parasite called cryptosporidium was found. It can cause more serious digestive issues.
"What we know about children and swimming pools is that kids often inadvertently swallow water," says Dr. Frank Belmonte, a pediatrician at Advocate Children's Hospital. "As a father myself, my advice to parents is to be diligent about any potential exposures your child may have to infectious diseases and take a proactive stance."
Experts stress the importance of teaching children not to urinate or poop in the pool and to keep kids out of the water if they show signs of gastro-related issues, such as diarrhea.
"I think the CDC report raises some legitimate concerns about the safety of public swimming pools," says Dr. Robert Citronberg, an infectious disease specialist at Advocate Lutheran General Hospital in Park Ridge, Ill. "We assume that those who maintain pools are following federal safety standards, but obviously that is not always the case."
Those standards include the proper water balance, disinfectant and concentration levels, as well as safety equipment. But, the CDC reports that almost one-third of all local health departments don't routinely inspect or license public pools.
So what is a parent to do? One tip is to bring water tests strips and check the water before your kids take a plunge. They can be purchased at local hardware and household stores for $10-$20. The strips come with instructions for testing.
"Given these findings, I do not think it is unreasonable for swimmers to 'test the waters' before jumping in to ensure that the water is safe," adds Dr. Citronberg.
Related Posts
Comments
About the Author
Evonne Woloshyn, health enews contributor, is director of public affairs at Advocate Children's Hospital. Evonne began her career as an anchor and reporter in broadcast news. Over the past 20 years, she has worked in health care marketing in both Ohio and Illinois. Evonne loves to travel, spend time with family and is an avid Pittsburgh Steelers fan!