Long work hours linked to life-threatening illnesses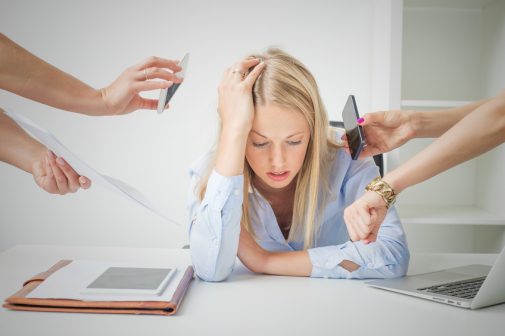 Women who work late, beware. A new study from Ohio State University found a link between long hours and life-threatening illnesses such as cancer and heart disease.
Researchers analyzed data from interviews with almost 7,500 men and women. They found regularly working long hours over many years was significantly associated with elevated risks of heart disease, non-skin cancer, arthritis and diabetes, and that the risk is higher for women than for men.
The researchers suggested the imbalance between men and women may be a result of women generally assuming more family responsibilities. As women juggle work demands with family obligations, the results can include stress, poor eating habits and other factors that may increase the risk for chronic illness.
"Women who work long hours for many years more likely are less able to participate in positive lifestyle activities such as proper exercise, proper diet and proper sleep," says Dr. Michael K. Cochran, director of medical oncology at Advocate Condell Medical Center in Libertyville, Ill. "For busy people – men and women – it can be very difficult to balance work and home life. Prioritizing is important. It's OK to put yourself first. Making time for yourself is critical."
The researchers found that the risk starts to increase when women put in more than 40 hours a week, but grows dramatically when they work more than 50 hours. Women that averaged more than 60 hours over 30 years appeared to have three times the risk of those life-threatening illnesses.
Previous studies have documented a variety of adverse health and safety outcomes related to working long hours, including fatigue, stress, sleep disorders, digestive problems, decreased work performance and work-related injuries.
The body responds to physical, mental or emotional pressure by releasing stress hormones that increase blood pressure, speed heart rate and raise blood sugar levels, according to the National Cancer Institute. While they say the evidence that stress causes cancer is weak, people under long-term stress may develop certain behaviors that can increase their risk for cancer or other chronic illnesses. These behaviors can include smoking, overeating or drinking alcohol excessively.
The Centers for Disease Control and Prevention offers these tips for coping with stress:
Eat healthy, well-balanced meals
Exercise on a regular basis
Get plenty of sleep
Give yourself a break if you feel stressed out
Related Posts
Comments
About the Author
Kathleen Troher, health enews contributor, is manager of public affairs and marketing at Advocate Good Sheperd Hospital in Barrington. She has more than 20 years of journalism experience, with her primary focus in the newspaper and magazine industry. Kathleen graduated from Columbia College in Chicago, earning her degree in journalism with an emphasis on science writing and broadcasting. She loves to travel with her husband, Ross. They share their home with a sweet Samoyed named Maggie.