Is stress contagious?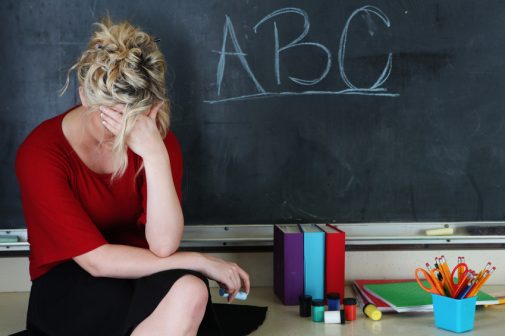 Can stressed out teachers lead to stressed out students? A new study that examined real classrooms found the answer may be yes.
The report, published in the journal Social Science & Medicine, analyzed teachers who reported feeling "burnt out" and the effect it had on their students. The small study of 17 teachers and over 400 students, ages 8 to 12, assessed stress by taking saliva samples at three times throughout the school day and measuring the children's levels of the stress hormone, cortisol. In addition, they had teachers fill out surveys to measure their levels of "burnout." They found that students had higher levels of cortisol when their teachers reported feeling more burnt out.
"Teachers who experience higher levels of burnout report to be more stressed, less effective in teaching and classroom management, less connected to their students and less satisfied with their work," the study authors wrote.
The findings are not surprising to Sarah Katula, a psychiatric advanced practice nurse at Advocate Good Samaritan Hospital in Downers Grove, Ill. "In any milieu when leaders are stressed – whether at home, at work or in a school – there is a cascading effect down to children, employees and students," she says. "If the teacher sets a tone that is stressful where they are short, aggravated or even unhappy, of course there is going to be an effect. A boisterous child might act out more, or a shy child might get quiet."
While Katula says the research is a great start, she believes other indicators need to be measured to truly see the impact of a stressed out teacher including: heart rate, pulse and sweating. She believes the next question for this line of research is: how does stress affect learning and academic engagement? Looking at things like test scores, grades and students' ability to voice concerns and ask questions in classroom would be important to measure this relationship, she says.
The study also doesn't answer the causality question: are the teachers burnt out because their students are stressed, or are the students stressed because the teachers are burnt out? But Katula says the bigger issue is "if teachers are stressed out, why are they stressed out? Is it a workload issue? And are they being offered support?"
One of a teacher's primary job responsibilities is to maintain the classroom environment. A passionate teacher can nurture critical thinking and inspire students to explore new areas of interest. When teachers are too stressed, though, the result can be uninspired children who lack trust in the authority figure in the classroom. Clearly, Katula cautions, the consequences of a burnt out teacher on a child's ability to learn is something that could have a long-term effect.
Related Posts
Comments
About the Author
Jacqueline Hughes is a former manager, media relations at Advocate Aurora Health. Previously, she was the public affairs and marketing manager at Advocate Lutheran General Hospital in Park Ridge, IL. She earned her BA in psychology at Stanford University in Palo Alto, California. Jackie has 10 plus years experience working in television and media and most recently worked at NBC 5 in Chicago. In her free time, she enjoys swimming, going to the movies and spending time with her family.