Some widely used medications may put you at risk for heat stroke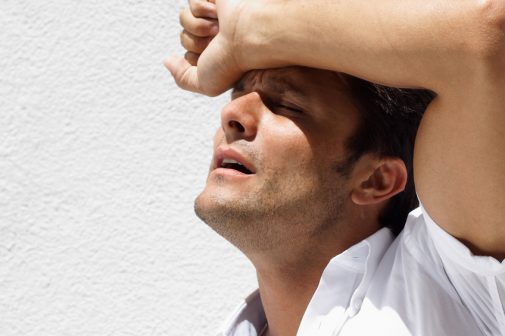 As we make our way through the scorching month of July, with temperatures expected to reach the upper 90s Friday, heat stroke is a very real possibility. But what many don't realize is that common, every day medications can amplify the serious effects of the condition.
"It is important to know that certain medications can damage the body's ability to respond to external heat and cool off," says Dr. Nader Beshay, an internal medicine physician on staff at Advocate South Suburban Hospital in Hazel Crest, Ill. "Those who take medications – even common over the counter medications – are more vulnerable to injury from excessive heat."
Dr. Beshay says a few common medications can lead to health issues if taken when there is excessive heat. They include:
Medications taken to help sinus, allergy and cough and cold known as antihistamines and anticholinergic drugs. These medications can decrease the body's ability to sweat and cool itself. Because the body is not cooling off as well as it should, risk of heat stroke is higher.
Antipsychotic medications affect a part of the brain that controls how the body manages heat to maintain a healthy body temperature. They can inhibit the body's ability to regulate its temperature and can make heat stroke more likely.
Medications like beta-blockers and calcium channel blockers which can be taken to slow your heart beat and reduce blood pressure can slow the flow of blood to the skin. When this happens, the body has a harder time ridding the skin of heat.
Ephedrine, amphetamines and cocaine are stimulants that can increase metabolism and internal body temperature, as well as constrict blood vessels. They can make it harder for the body to release heat from the skin as well.
While medications can make people more vulnerable to dehydration and overheating, certain types of people are at high risk, too. Specifically, infants, the elderly, athletes and people who work outside should take extra precautions.
Dr. Beshay says that even if you don't take certain medications and you don't believe you are susceptible to heat stroke, it's important to know the symptoms. They include: high body temperature, rapid pulse, the absence of sweat with red, hot, flushed or dry skin, strange behavior, difficulty breathing, confusion, hallucinations, agitation, seizures, disorientation, and/or coma. If you experience any of these symptoms, you should seek help immediately.
"Being aware that heat stroke can happen and knowing the steps to take are an easy way to prevent getting sick," says Dr. Beshay. "Always drink plenty of fluids, take frequent breaks in cooler, shaded areas when working or playing outside, wear cool, light-colored clothing and to stay in air conditioned areas during heat waves."
Related Posts
Comments
About the Author
health enews staff is a group of experienced writers from our Advocate Aurora Health sites, which also includes freelance or intern writers.