How safe are amusement park rides?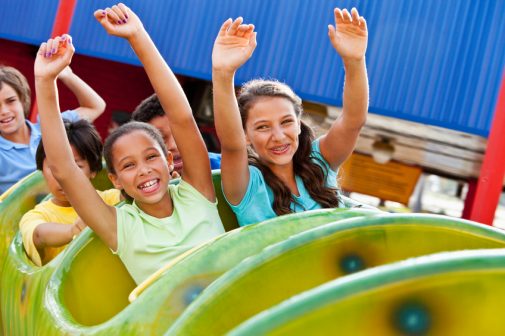 A highlight for many each summer is a trip to the amusement park or the local carnival. But parents, beware, because thousands of kids are hurt annually on these amusement park rides, according to a new study.
Researchers from Nationwide Children's Hospital in Columbus, Ohio, studied data from the Consumer Product Safety Commission on kids who were treated in emergency rooms for such injuries. The data revealed that 92,885 children under the age of 18 were treated in ERs between the years 1990 and 2010. That averages out to about 4,423 injuries a year, with the majority of injuries occurring between May and September, when most amusement parks are open and state fairs are held.
The injuries included head and neck problems and injuries to the face, arms and legs. The most common were soft-tissue injuries including damage to ligaments, muscles and tendons. Children were also treated for more serious injuries, but these were far less common. The rides that were the main culprits ranged from Ferris wheels, to bumper cars, carousels, roller coasters and others similar in nature.
"Fortunately, it is very rare that we see a child hurt from a roller coaster," says Dr. Clifford Spanierman, a pediatric emergency medicine physician at Advocate Children's Hospital in Park Ridge, Ill. "However, there have been several severe falls from inflatable rides and slides."
Every year, about 375 million Americans attend theme parks, according to the International Associate of Amusement Parks and Attractions. Based on that total, the annual injury total is fortunately pretty small. But that doesn't mean there isn't room for improvement. And parents can do their part to keep their children safe.
Dr. Spanierman says that often, the problem is not utilizing safety devices properly or poorly maintained equipment. He reminds parents to always ensure that the child is well secured and follows instructions. "If you have any doubts that the equipment is well maintained or about the competence of the operator, you should not place your child on the ride," says Dr. Spanierman.
Although it's hard to predict an injury caused by an amusement park ride, there are few simple guidelines one can follow to ensure a safer experience:
Follow height, age, and weight restrictions
Use safety equipment such as seat belts and safety bars
Keep hands and feet inside the ride at all times
Follow specific loading instructions or seat order
By following these four clear guidelines, you could be saving yourself a trip to the emergency room, which allows more time for summer fun!
Related Posts
Comments
About the Author
Sonja Vojcic, health enews contributor, is a marketing manager at Advocate Health Care in Downers Grove, Ill. She has several years of international public relations and marketing experience with a Master's degree in Communications from DePaul University. In her free time, Sonja enjoys spending time with her family, travelling, and keeping up with the latest health news and fashion trends.