Helping my son get comfortable in his own skin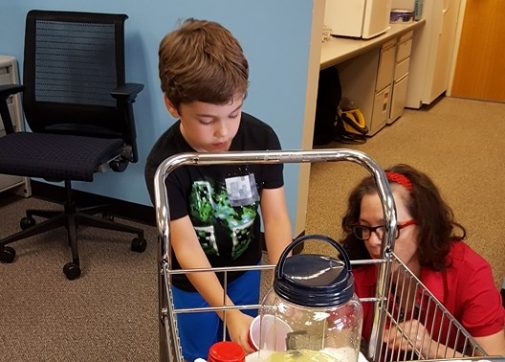 My son, Vinny, was diagnosed with sensory processing disorder in March of 2015. He was five years old. His biggest issues were tactile-based. He could not tolerate haircuts, could only wear certain types of shoes and socks and would seek out deep compressions.
We began doing intensive occupational therapy (OT) with Margarita Redmond at Advocate Children's Hospital on Wednesday afternoons and Friday mornings. We did this for three months.
During that time, Vinny was taught strategies on how to "alert" his brain when it needed to be alerted and how to "calm" his brain when it needed calming. My husband and I participated in these OT sessions, and we learned how to help him during this time, as well.
We learned what the perfect sensory diet was for Vinny. It consisted of obstacles courses, jumping on a trampoline, swinging on swings, climbing, bear hugs, body sandwiches, brushing his skin with a special brush, gum chewing and many other things.
Margarita helped us get more comfortable with this "diet" and special terminology every session. We were encouraged to find objects and activities we already had at home to use to feed his sensory diet. We practiced all these techniques with Margarita.
During these three months, we accumulated a list of calming and alerting activities that Vinny was able to refer to daily.
We also put together a fidget box, a traveling box that goes with us on long car drives, to long appointments or even on errands. It provided Vinny with outlets in these instances that could be overstimulating to him.
After three months of working intensively with Margarita, Vinny graduated from occupational therapy. The next step was a follow-up with Margarita after six months.
We continued to practice a sensory-rich diet at home. This is something he needed every day. He was making great strides.
When we went back for our follow-up appointment, we noticed that he had some struggles with his eating. Certainly, things didn't look right—he didn't want to taste things, and he had some struggles getting dressed again.
Vinny had also been diagnosed with obsessive compulsive disorder and anxiety. We began working with Margarita again. This time our focus was on eating.
Once again, Margarita helped my son overcome his fear of trying new foods, and he learned strategies to help him eat. We saw Margarita for only about a month this time, and he was ready to graduate again!
Margarita's incredible knowledge, love for children and passion for her job is nothing short of amazing! We can't thank her enough for helping our son become comfortable in his own skin and providing a path for us to help him. We couldn't be more proud!
Related Posts
Comments
About the Author
Leslie DeFrisco shares her son's journey with therapy at Advocate Children's Hospital in Park Ridge.