Eating oily fish may boost colon cancer survival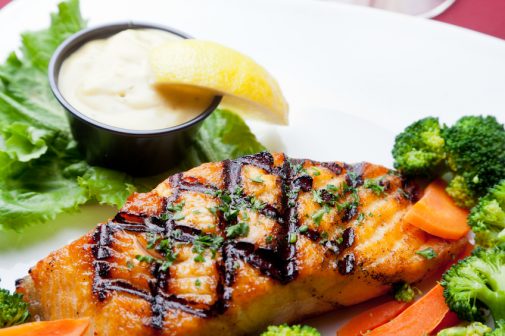 Colon cancer patients may have a higher chance of survival if they consume a diet rich in omega-3 fatty acids following their diagnosis, according to a recent study.
Published online in the journal Gut, the study included nearly 1,700 adults with colon cancer. Participants completed a questionnaire every two years with detailed information about their medical history and lifestyle habits, including smoking status, use of aspirin and food and vitamin consumption. 561 of the participants passed away during the monitoring period of the study, which spanned more than 10 years.
Researchers from Massachusetts General Hospital analyzed the survey responses and found that colon cancer patients who consumed at least 0.3 grams of omega-3 fatty acids per day were 41 percent less likely to die from the disease than patients who consumed less than 0.1 gram of omega-3 fatty acids per day. The intake of omega-3 mostly came from patients eating oily fish like salmon, herring, sardines and albacore tuna.
"Although this study does suggest an improved survival after colon cancer by consuming adequate fish in the diet, the study is not definitive," says Dr. Charles Berkelhammer, a gastroenterologist at Advocate Christ Medical Center in Oak Lawn, Ill. "This was an observational study, and no conclusions were made about cause and effect."
Still, Dr. Berkelhammer says this study does suggest an association between fish intake and an improved survival after colon cancer diagnosis. Other studies have also suggested a reduced incidence of colon cancer in people who consume an adequate fish intake in their diet. Other dietary factors include adequate intake of calcium, Vitamin D, fruits and vegetables.
Dr. Berkelhammer says it's also helpful to avoid excesses in alcohol, red meat and in particular, excessive charcoal-broiled red meat. Avoiding obesity, reducing diabetes and having a non-smoking status are also factors in reducing colon cancer.
There is even some evidence that shows taking an aspirin a day can reduce your risk of colon cancer, says Dr. Berkelhammer.
"With a cancer diagnosis, it's imperative that patients make good nutrition a priority. Maintaining a balanced diet during cancer treatment gives the body essential nutrients that it needs to maintain strength and properly heal," he adds. "Any cancer patient will see far more benefits when eating lean, unprocessed cuts of meat and fish than they would from eating processed or red meat."
Dr. Berkelhammer stresses that the majority of colorectal cancer diagnoses and deaths could be prevented through a screening colonoscopy, which can perform biopsies, remove precancerous polyps and diagnose colon cancer.
Screening colonoscopies are recommended for women and men every 10 years, beginning at age 50, or at age 45 for African Americans.
Advocate Health Care now offers ease and convenience with a Direct Access Screening Colonoscopy appointment. For those who qualify, our digestive health team can book your colonoscopy with a personal phone consultation prior to the procedure, saving you a trip to the gastroenterologist's office. Call 1-800-323-8622 to make an appointment today.
Related Posts
Comments
About the Author
Julie Nakis, health enews contributor, is manager of public affairs at Advocate Children's Hospital. She earned her BA in communications from the University of Iowa – Go Hawkeyes! In her free time, she enjoys spending time with friends and family, exploring the city and cheering on the Chicago Cubs and Blackhawks.