Why is chronic pain so difficult to treat?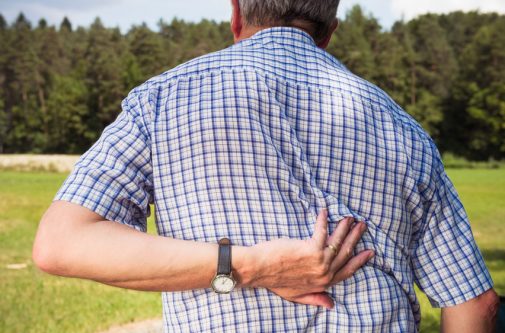 Chronic pain is a silent, invisible disease that wrecks havoc on more than 100 million people in the U.S.
Dr. John Hong, a pain management specialist at Advocate Good Samaritan Hospital in Downers Grove, Ill, says chronic pain has become a public health issue, as more Americans suffer from it than diabetes, cancer and heart disease combined.
It is common to experience acute or mild pain from time to time resulting from surgery, a broken bone or even a cut. While this kind of pain is sudden and sharp, it lasts for just a moment. On the opposite end of the spectrum is chronic pain that lasts well after an injury has healed.
"Chronic pain is pain that persists beyond the usual time frame for healing, typically more than two to three months," says Dr. Hong.
Wounded veterans, car accident victims and those who have suffered from a violent trauma can have chronic pain. However, it also can occur in athletes and fibromyalgia patients.
"Although most chronic pain develops after some type of injury, such as trauma or surgery, pain may also develop without any clear cause," says Dr. Hong.
So what exactly is chronic pain?
Pain that continues beyond an expected period of healing
Pain that lingers even if you are no longer ill or injured
Pain that exists for no apparent reason
Dr. Hong says chronic pain negatively impacts patients' quality of life, as many suffer from depression, anxiety, low energy levels, inability to sleep well and fear of re-injury, which can hinder their ability to return to normal work or leisure activities.
"Pain can limit movement, resulting in reduced muscle and joint flexibility and strength. Limited mobility can result in impaired functionality, affecting an individual's ability to perform work and leisure activities. Pain also causes psychological stress, which often results in depression, anxiety and social isolation," says Dr. Hong.
Why is it so hard to diagnose?
Dr. Hong says chronic pain is complicated, as everyone feels pain differently; however, when it starts to take a toll on a patient's physical and emotional well-being, it's time to seek treatment.
"Pain is a subjectively reported symptom. Therefore, no single imaging or lab test can be used to definitively diagnose this disorder," says Hong.
Chronic pain should be diagnosed by a qualified healthcare provider based on a careful history and physical exam and any necessary imaging and laboratory studies.
"Many patients seek a pain management specialist too late after their symptoms have developed. Part of this might be a desire to simply tough out their pain. Or, it may be that they have been unable to find a qualified pain specialist to address their needs," says Dr. Hong.
What should I do if I suffer from chronic pain?
"Treating chronic pain is challenging because of the complex nature of pain and unique nature of each sufferer. Therefore, a customized approach is required for best results. The first step is to appropriately identify the source of pain. It is important to understand the physical, psychological and societal contributions to chronic pain for each suffer," says Hong.
Treatment options include:
Prescription and/or over-the-counter medications
Interventional techniques such as nerve blocks or electrical stimulation
Physical and occupational therapy
Relaxation techniques and coping skills
Complimentary alternative medicine such as massage, acupuncture and yoga
"I advise patients not to suffer in silence," says Hong. "Although the 'grin and bear it' approach may work for some, inevitably with time, the harmful effects of the pain take their toll and it becomes harder and harder to reverse. Get appropriate care and get it fast!"
Related Posts
Comments
About the Author
Johnna Kelly, healthe news contributor, is a manager of public affairs and marketing at Advocate Christ Medical Center in Oak Lawn. She is a former newspaper reporter and spent nearly 10 years as a public relations professional working for state and county government. During her time as a communications staffer for the Illinois General Assembly, she was integral in drafting and passing legislation creating Andrea's Law, the nation's first murderer registry. In her spare time, she volunteers at a local homeless shelter, enjoys traveling, photography and watching the Chicago Bulls.