Can art therapy help those with early stage Alzheimer's disease?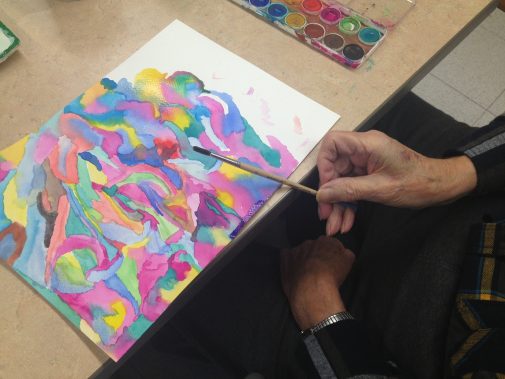 By encouraging creativity and self-expression, art therapy may be a powerful tool for enhancing a person's physical, mental and even emotional well-being.
New research being conducted by the Advocate Memory Center will measure the impact art therapy can have on those with a diagnosis of mild or early stage Alzheimer's disease.
"With limited medications and interventions for Alzheimer's disease, there is a growing body of research that puts a value on creative intervention," says Danielle Dodson, LCSW, sub-investigator for the study and social worker at the Advocate Memory Center. "We know that people with early stage Alzheimer's often feel a sense of stigma or isolation because of their condition. We believe that exploring their creativity could make a difference in their self-esteem. That's the theory we are testing with this study."
To participate in the research, the volunteer must have a diagnosis of mild or early stage Alzheimer's disease and be aware of his or her own symptoms and condition. Potential participants must also have a care partner (e.g. family member or friend) willing to attend four, one and a half hour art therapy sessions with the diagnosed individual. The care partner must be someone who sees the diagnosed individual at least weekly.
During the sessions, an art therapist will encourage those with Alzheimer's and their care partners to explore their creativity through an art project. The group also provides an opportunity for social interaction and sharing. Pre-and post-screenings of all participants will measure how effective the intervention has been and whether it has impacted relationships and attitudes towards dementia, for the patients and their care partners.
"We believe this type of research could help to improve the quality of life for those with Alzheimer's disease, as well as their partners in care," says Darren Gitelman, MD, Senior Medical Director of the Advocate Memory Center and principal investigator on the study. "We want to contribute to the wealth of knowledge needed in our field to make a difference."
The Advocate Memory Center is working collaboratively with Advocate Older Adult Services to complete the research. For more information or to volunteer for the study contact Danielle Dodson, LCSW at 847.720.6458 or Danielle.dodson@advocatehealth.com
Related Posts
Comments
About the Author
Evonne Woloshyn, health enews contributor, is director of public affairs at Advocate Children's Hospital. Evonne began her career as an anchor and reporter in broadcast news. Over the past 20 years, she has worked in health care marketing in both Ohio and Illinois. Evonne loves to travel, spend time with family and is an avid Pittsburgh Steelers fan!