"Sometimes it can totally reverse the stroke"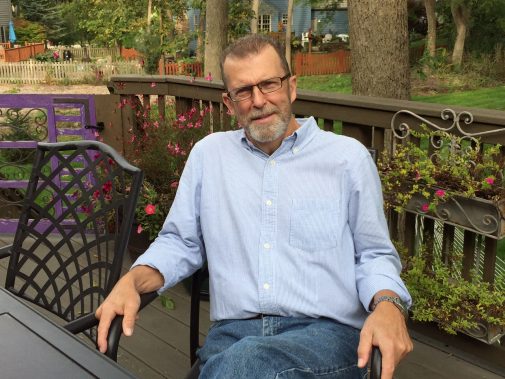 As Gregory Krumes sat outside on his deck motioning for help from his wife and daughter inside their Gurnee, Ill. home, a frightening thought hit him: "What if they don't realize I'm serious?"
But Krumes was serious. He needed their help. He was having a stroke.
The symptoms came on swiftly and intensely. One minute he was enjoying a late summer evening outdoors, then suddenly, a rush overcame him. He doubled over in his chair and placed his head in his hands, unsure what was happening. His left hand and the left side of his mouth grew numb. He tried to call out to his family but, too weak to speak, no words formed.
"It was very unsettling," Krumes says. "I felt helpless."
Soon his wife and daughter realized he was in trouble, and they hurried outside to help. Shortly after they called 911, paramedics arrived to transport Krumes to the emergency department at Advocate Condell Medical Center in Libertyville, Ill. There, a diagnosis of ischemic stroke was confirmed. That means Krumes had an obstruction in a vessel supplying blood to his brain. Ischemic strokes account for about 87 percent of all strokes, according to the American Heart Association. The longer the blockage remains, the more likely damage – or even death – will occur. Quick action was needed, so Krumes was given tPA through an IV.
tPA is an abbreviation for tissue plasminogen activator, a clot-busting medication. The goal at Advocate Condell is to administer tPA within 60 minutes from the time an ischemic stroke patient enters the hospital.
"Time is of the essence," says Dr. Paul Krivickas, medical director of Advocate Condell's stroke program.
Krivickas says when a clot prevents blood from reaching the brain, then brain cells start dying due to lack of oxygen. The key is to break up the clot and get that blood flowing again to improve chances of survival and reduce complications.
"All patients are different, but I've seen it work within an hour," Krivickas says. "Sometimes it can totally reverse the stroke."
In Krumes' case, he remained in the hospital under observation for 24 hours, followed by another two days to monitor bleeding that eventually cleared up. He was admitted to the hospital on a Thursday night and released Sunday afternoon.
"The tPA did its job," says Krumes, a man of deep faith who credits the physicians and divine intervention with his near total recovery.
"I'm a firm believer my life is in God's hands," he adds. "I look at the experience and know it could happen again or it might never happen again. I'm just grateful right now I'm doing well."
Related Posts
Comments
About the Author
Kathleen Troher, health enews contributor, is manager of public affairs and marketing at Advocate Good Sheperd Hospital in Barrington. She has more than 20 years of journalism experience, with her primary focus in the newspaper and magazine industry. Kathleen graduated from Columbia College in Chicago, earning her degree in journalism with an emphasis on science writing and broadcasting. She loves to travel with her husband, Ross. They share their home with a sweet Samoyed named Maggie.