Meet an 11-year-old superhero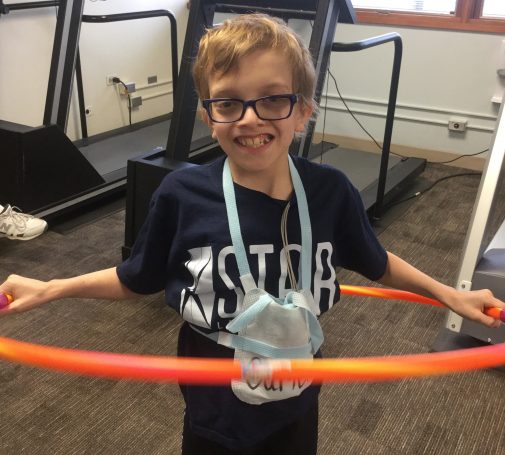 Hula hoops, soccer balls and jump ropes are the games of children. But those games take on a much greater meaning for Carter Solgos. For this 11-year-old boy, playing with a hula hoop is a treatment, of sorts. It's just one challenge he is meeting in pediatric cardiac rehabilitation.
Carter has struggled with serious heart issues since birth. He's experienced 11 heart procedures and surgeries, including open heart, the most serious of all. But through it all, Carter has shown he is a superhero—just like his favorites, Spider-Man, Batman, Captain America and Flash. Carter's pediatric cardiac team at the Advocate Children's Heart Institute at Advocate Children's Hospital-Park Ridge are working in collaboration with cardiac rehabilitation specialists at the Advocate Heart Institute at Advocate Lutheran General Hospital to get him feeling more confident about doing what kids do—playing.
"I feel like I have more energy," says Carter. His mom, Erika, agrees. After his most recent heart surgery in May, Carter began coming to cardiac rehab three times a week.
"Since he started rehab, Carter is much more confident about exercising," says Erika Solgos, Carter's mom. "It has really done a lot for his energy level and endurance. He is much stronger now. "
"Carter has hypertrophic cardiomyopathy, a disease where the heart muscle thickens, making it harder for the heart to function," says Carter's pediatric cardiologist Dr. Marc Ovadia, at the Advocate Children's Heart Institute. "He also has other congenital heart defects. But Carter is a very strong little boy with incredible stamina. He is doing great in rehab."
The cardiac rehab routine was specially tailored to fit Carter's age. He's become quite the celebrity–often drawing an audience cheering him on.
"In cardiac rehab, Carter does things like playing with a soccer ball, jumping rope and walking on a treadmill," says Shawn Schueman, one of Carter's exercise physiologists. "We monitor his heart and encourage him to increase his activity. It is all about Carter knowing that he can do it—he doesn't have to be afraid."
Carter's "superhero training," as his caregivers call it, is meant to get him back to middle school full-time. They also hope he'll feel comfortable enough to ride bikes with friends and even get back to gym class.
"It is very difficult for any child to feel normal after all Carter has faced," adds Dr. Ovadia. "Our job is to not only boost his confidence, but that of his parents and others around him. Carter is showing us every day that he's tough and not as vulnerable as one might think."
Related Posts
Comments
About the Author
Evonne Woloshyn, health enews contributor, is director of public affairs at Advocate Children's Hospital. Evonne began her career as an anchor and reporter in broadcast news. Over the past 20 years, she has worked in health care marketing in both Ohio and Illinois. Evonne loves to travel, spend time with family and is an avid Pittsburgh Steelers fan!