How to support someone who has lost a child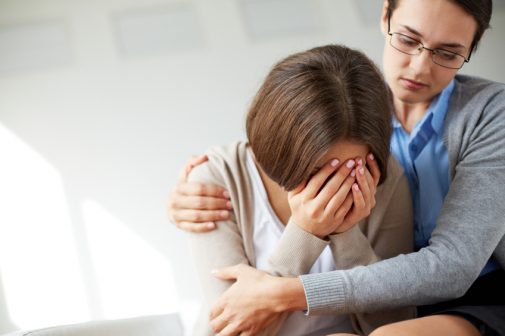 October is Perinatal and Pediatric Bereavement Awareness month. In honor of all those who have lost their babies and children, Jennifer Johnson, a perinatal education coordinator from Advocate Condell Medical Center in Libertyville, Ill., shares how to support people who are grieving.
Supporting a loved one who has experienced the death of an infant or a child is an extremely difficult task. The grief process is very individualized because there is no right or wrong way to grieve, and the process has no defined course or timeline.
Oftentimes during the initial phase, the griever appears to be functioning quite well, but this is because they are still in shock. These outward appearances lead those around them to believe that if they can function this well immediately after the death, they will certainly function even better after more time. Most likely, this is the exact opposite of the truth. As a result, the support system often stops asking how the griever is doing, stops talking about the deceased and dedicates less time to the griever. Usually, the shock wears off at the same time as family and friends go back to their own lives, and that is when the reality of the death begins to set in and the real grief erupts.
The following suggestions can help you support your loved one during their grief process:
Silence- This is sometimes the hardest thing to do, but it can be the most effective. The griever needs to cry and tell their story. You do not have to find the right words; there are no words to solve the unsolvable.
Admit your helplessness- There is nothing you can do to change the event. In a society based on fixing things that are broken, we often try to fix it. We look for the right words, the activities, the rationale, the answer to the unknown to try and remove the grief.
Be genuine- The safest way to respond is to be natural and genuine. Non-genuine support is worse than no support.
Be with the person in grief- You can be right next to a person and still not be with them. Being with them means physically being there, whether they are crying, talking, silent or in another room. It means asking what their needs are and meeting them. It means respecting their choices- to be alone, to just sit. It does not mean finding ways to distract them. It does not mean telling them what is good for them. It does not mean trying to hide your own pain or tears over the loss.
Never judge another's grief- No two peoples' grief looks the same. Each person had their own unique relationship with the deceased, their own personality and copings skills, their own culture, tradition and history.
Be clear about your own issues on death- If you are uncomfortable with the reality of death, this discomfort will show through no matter how much you try to not let it. It is most helpful to admit your helplessness, your own fears and ask how you can help the griever.
Know your limitations- Be only as supportive as you can comfortably be. If you are uncomfortable being present with a person in grief, perhaps you can write and explain that while still acknowledging you care.
It is crucial to support your loved one, not only immediately after the death, but months and years later. Remember, you do not need to provide solutions; only the permission and opportunity to grieve. It is a slow heal. Each individual heals at a different speed. Open your arms to your loved one and share their grief. You will make a difference.
Related Posts
Comments
About the Author
Jennifer Johnson, health enews contributor is the Perinatal Education Coordinator at Advocate Condell Medical Center. Jennifer has worked as an obstetrical nurse for 18 years and as a certified childbirth educator. She is passionate about keeping mothers and infants in the community healthy. Jennifer also sits on the perinatal nursing advisory board for the March of Dimes. She has 5 children and enjoys family time with them and her husband; attending their sporting events, camping, going to concerts and kayaking.