New safety recommendations for sleeping infants released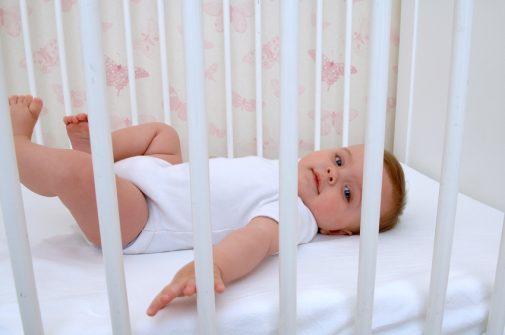 Infants should sleep in the same bedroom as their parents, but not in the same bed. That's one of the key messages found in updated safe sleep guidelines released Monday by the American Academy of Pediatrics (AAP).
The recommendations stress that infants should share their parents' bedroom ideally for the first year, or at least the first six months. But infants should sleep in their own crib and never on a couch, armchair of soft surface, the AAP emphasizes.
"What we need to reinforce is that infants should never be sleeping in bed with mom and dad," says Dr. Duane Stich, a neonatologist at Advocate Children's Hospital and medical director of neonatology at Advocate Children's Medical Group. "When you place a baby in a bed, there is a chance a parent will roll over them or they'll get into a position where they can't breathe. Parents' bed is never the right place for a baby."
Jennifer Johnson, a registered nurse and the perinatal education coordinator at Advocate Condell Medical Center in Libertyville, Ill., says it is essential to recognize the difference between room sharing and bed sharing.
"Room sharing is recommended, but bed sharing definitely is not," Johnson says. "Bed sharing can be very dangerous for an infant, increasing the risk of death five-fold up to the age of 3 months, even if there are no other risk factors present. It is critical for parents to understand the importance of a completely safe sleeping environment for their infant."
Every year, about 3,500 infants die from Sudden Infant Death Syndrome (SIDS) or other sleep-related deaths, according to the AAP. The rate of SIDS has declined as more parents become aware of the importance of placing babies on their backs to sleep, but now AAP wants to focus on the total sleep environment in an effort to reduce SIDS even more.
That means getting the word out on the dangers of bed sharing and the importance of removing all soft bedding, bumper pads, pillows, stuffed animals and toys from a baby's sleep area. Having an infant sleep in an empty crib may look austere, but experts say it keeps them safe. Many parents believe soft bedding will protect their babies, but instead, it can create air pockets that make breathing difficult, according to the AAP. Parents should use only a tightly fitted mattress and tightly fitted sheet in their baby's crib.
Johnson says an easy way for parents to remember the keys steps for safe infant sleeping is with these ABCs: Alone, on their Back, in a Crib, with a Smoke-free environment.
These are the AAP's 2016 safe sleep recommendations:
Place infants on their back to sleep (supine) for every sleep period until they are 1 year old. This position does not increase the risk of choking and aspiration.
Use a firm sleep surface.
Breastfeeding is recommended.
Infants should sleep in the parents' room, close to the parents' bed but on a separate surface designed for infants, ideally for the first year, but at least for the first six months.
Keep soft objects and loose bedding out of the infant's sleep area.
Consider offering a pacifier at naptime and bedtime.
Avoid smoke exposure during pregnancy and after birth.
Avoid alcohol and illicit drug use during pregnancy and after birth.
Avoid overheating and head covering in infants.
Pregnant women should obtain regular prenatal care.
Infants should be immunized according to the recommended schedule.
Avoid using commercial devices that are inconsistent with safe sleep recommendations, such as wedges and positioners.
Don't use home cardiorespiratory monitors as a strategy to reduce SIDS risk.
Supervised tummy time while the infant is awake can help development and minimize positional plagiocephaly.
There is no evidence to recommend swaddling to reduce the risk of SIDS.
Health care professionals and staff in newborn nurseries and neonatal intensive care units as well as child care providers should endorse and model recommendations to reduce SIDS risk.
Media and manufacturers should follow safe sleep guidelines in messaging and advertising.
Continue the Safe to Sleep campaign, focusing on ways to further reduce sleep-related deaths.
Research and surveillance should continue on all risk factors.
Related Posts
Comments
About the Author
Kathleen Troher, health enews contributor, is manager of public affairs and marketing at Advocate Good Sheperd Hospital in Barrington. She has more than 20 years of journalism experience, with her primary focus in the newspaper and magazine industry. Kathleen graduated from Columbia College in Chicago, earning her degree in journalism with an emphasis on science writing and broadcasting. She loves to travel with her husband, Ross. They share their home with a sweet Samoyed named Maggie.