Is acupuncture right for you?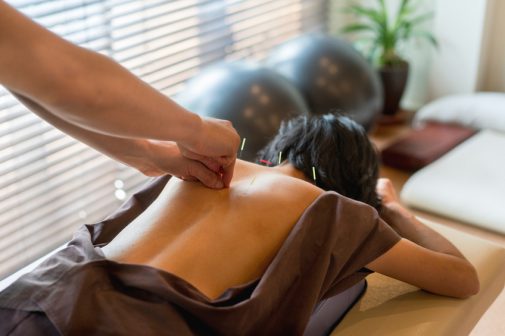 Acupuncture has been popular for thousands of years, but what some don't realize is that it is a legitimate treatment option for people with a variety of issues. In fact, studies show acupuncture has been successful in treating chronic pain, migraines, arthritis and even the common cold and the flu.
Acupuncture is a form of traditional Chinese medicine that has been practiced for over 5,000 years. This type of treatment involves tiny needles that are pressed at certain points on your body to help your natural energy flow well.
"Acupuncture will benefit 90 percent of patients with pain and/or inflammatory conditions" says Dr. Mark S. Gibson, a physician and acupuncturist at Advocate Good Shepherd Hospital Health & Fitness Center in Barrington, Ill. "Acupuncture significantly reduces the frequency and severity of those painful symptoms. This treatment option applies to the typical areas people experience pain including, headaches, back, neck and joint pains and even sinusitis."
Given the benefits, this form of medicine has become increasingly popular.
So what do you need to know if you are planning your first visit to an acupuncturist?
Dr. Gibson answers some common questions.
How much does it cost? Acupuncture varies in costs depending on the type of treatment you want. "Community acupuncture," involves being treated in a communal space with other patients. This treatment can vary from $20 to $40 for a one-hour visit. If you are looking for treatment that is more private, you can opt for a one-on-one appointment and expect to pay anywhere from $75 to $135.
How do I prepare for my appointment? Prepare to get personal. The experts find that it's best to be invasive so they are able to find out the best way to treat you. You will be asked to fill out a questionnaire that could ask some pretty private questions. During treatment, your acupuncturists may ask more questions about your health and recommend some activities to do in addition to treatment such as meditation or yoga.
What does it feel like? The treatment will not hurt, but you will feel a little pinch. The needles are small and thin, which makes it a little uncomfortable, but not at all painful. Once the needles are placed, you will be asked to stay still as the little needles begin to separate tissue as pressure points. Fear not–the needles will not cut you. During the remainder of the appointment, you will continue to lay down without any devices to distract you. You may, however, listen to music to relax because it can help the acupuncture to promote and restore energy.
How often should I go? How often you go will depend on your preferences and your treatments. Typically, once a week for a month, or every other week for two months will do the trick. It all depends on your situation and what you want to get out of it.
Related Posts
Comments
About the Author
health enews staff is a group of experienced writers from our Advocate Aurora Health sites, which also includes freelance or intern writers.