Tips to survive Thanksgiving with your family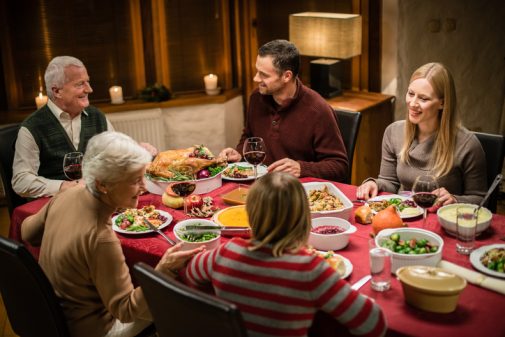 As you celebrate Thanksgiving this week, you may be reminded that family gatherings around turkey and pumpkin pie can be both positive and negative. Some may spark a trip down memory lane, while others may end in a heated debate about the recent election results.
"Thanksgiving is the start of many family gatherings during the holiday season, more so than any other time of year. While we are thankful for this time together, family dynamics can be heightened, and we worry if everyone will get along," says Dr. Maleeha Ahsan, a psychiatrist at Advocate Good Samaritan Hospital in Downers Grove, Ill.
Regardless of if your family gathering is large or small, Dr. Ahsan suggests the following tips to handle this year's festivities:
Eliminate politics and hot-button issues from dinner table conversation. While the recent election may be top of mind for some people right now, just saying no to the debate is a potentially relationship-saving option.
Don't meddle in each other's lives. The holidays are a time to celebrate one another, not to try to fix each other's perceived problems.
Prepare to deflect. Think about the reoccurring topics, such as dating and marital status, children, job prospects or your vegetarian lifestyle and have some ready-made answers.
Come with prepared "safe" topics of conversation, such as sports (World Series), entertainment and life events.
Give yourself a break from the heavy adult conversations by playing a game with your niece or hanging out with your shy cousin.
Make yourself useful. The Thanksgiving meal doesn't cook itself, and extra hands are always appreciated. Offer to help the host or hostess set the table, mix the mashed potatoes or even wash dishes after the meal.
"Most importantly, Thanksgiving is about getting back to the basics by enjoying each other's company over big portions of comfort food. Between the family gatherings and other responsibilities, take time to recognize all of the blessings in your life during these anxious times," says Dr. Ahsan.
Related Posts
Comments
About the Author
Johnna Kelly, healthe news contributor, is a manager of public affairs and marketing at Advocate Christ Medical Center in Oak Lawn. She is a former newspaper reporter and spent nearly 10 years as a public relations professional working for state and county government. During her time as a communications staffer for the Illinois General Assembly, she was integral in drafting and passing legislation creating Andrea's Law, the nation's first murderer registry. In her spare time, she volunteers at a local homeless shelter, enjoys traveling, photography and watching the Chicago Bulls.