Can yelling at the TV cause permanent damage?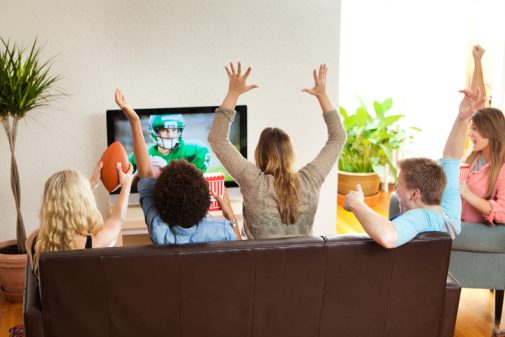 It's overtime. Your favorite team and a strong opponent are heading into a shootout. One of your favorite players pulls through by scoring the game-winning goal, and you lunge off the couch, screaming and cheering.
Sound all too familiar? Those who are passionate about sports have undoubtedly experienced many situations which have caused them to yell out in happiness—or frustration. But does frequent game day screaming pose a risk to your vocal cords?
"Typically, yelling causes a temporary strain and localized irritation to the vocal cords," says Dr. Steven Soltes, an otolaryngologist at Advocate Christ Medical Center in Oak Lawn, Ill.
"After the initial insult, the recommendation is to rest your voice, drink lots of water, stay well hydrated and try to avoid a repeat insult (like yelling) until all symptoms such as hoarseness and throat pain resolve," he says.
But repeat offenses can lead to more than a 2-minute penalty; Dr. Soltes says persistent irritation can cause more chronic, permanent damage.
"By not allowing the vocal cords to recover properly, serious changes such as vocal cord nodules and polyps can develop," Dr. Soltes says.
Nodules and polyps are growths on the vocal cords caused by vocal abuse. Nodules are small and callous-like, while polyps are similar to a blister. Both cause the voice to be hoarse, low and breathy and may require surgery.
"If someone remains hoarse beyond a reasonable period of time, such as one week, he or she should consult an otolaryngologist, also known as an ear, nose and throat (ENT) physician, for further evaluation and treatment," Dr. Soltes recommends.
Related Posts
Comments
About the Author
Holly Brenza, health enews contributor, is a public affairs coordinator on the content team at Advocate Health Care and Aurora Health Care. She is a graduate of the University of Illinois at Chicago. In her free time, Holly enjoys reading, watching the White Sox and Blackhawks, playing with her dog, Bear and running her cats' Instagram account, @strangefurthings.