Worried about your child's weight?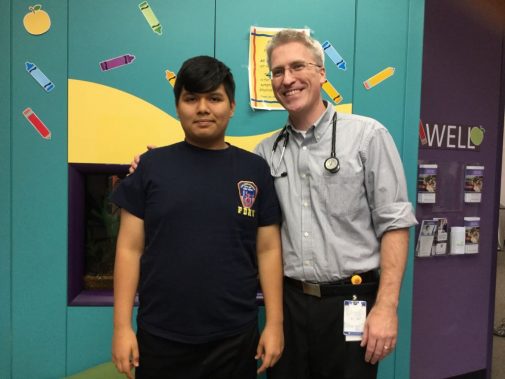 At age thirteen, Juan Martinez has accomplished what many adults long to do. The middle school student has lost over thirty pounds in nine months. Today, it is Juan who is "driving his ship" toward a change that will likely affect the rest of his life.
Juan is among the one in six children or adolescents in the United States considered obese. Obesity is defined as having a body mass index (BMI) higher than the 95th percentile for kids in their age group. And, despite his tremendous weight loss, Juan's BMI is still at the 99th percentile. His goal is the 85th.
While Juan has not reached his ultimate goal, his self-esteem has skyrocketed. Not only is he feeling and sleeping better, Juan has significantly reduced his risk for heart disease, diabetes and chronic pain, as well as depression and anxiety related to bullying.
Juan has found a safe place to address his weight issues. It's called the Healthy Active Living Clinic—a comprehensive, multidisciplinary weight management program for children and teens at Advocate Medical Group and Advocate Children's Hospital. The six-month program helps kids and families adopt healthy eating and physical activity habits. With support from his family, Juan comes to the clinic monthly and meets with a pediatrician, registered dietician and a behavioral therapist. What he's learned has made a huge difference.
"We are very grateful to this program," says Denice Narvaez, Juan's mother. "In the past, Juan was very frustrated trying to lose weight. He felt like he couldn't eat anything. Now we know more about portion control. Losing weight has meant so much to him. His teachers are amazed. Juan is so proud."
"Juan's family has been extremely supportive," says Dr. Matthew Smiley, program director of the Healthy Active Living Clinic. "What has helped Juan achieve his goals is that his family is also making incredible change. Knowing that Juan's overall health is at stake, they are taking this opportunity very seriously."
The entire Martinez family now eats healthier and walks together. Other family members, including Juan's 15-year-old sister, are seeing a difference, too.
"Families have to be committed to enter the program," adds Dr. Smiley. "For kids to be successful, family members need to actively participate."
Children can enter the program as early as age two if their BMI is greater than the 85th percentile.
"The exercise and eating habits adopted early in life carry into adulthood," adds Dr. Smiley. "By intervening early, we can make a huge difference that can last a lifetime."
For more information on the Healthy Active Living Clinic, you can ask your pediatrician or call 847-318-9300 to schedule an appointment.
Related Posts
Comments
About the Author
Evonne Woloshyn, health enews contributor, is director of public affairs at Advocate Children's Hospital. Evonne began her career as an anchor and reporter in broadcast news. Over the past 20 years, she has worked in health care marketing in both Ohio and Illinois. Evonne loves to travel, spend time with family and is an avid Pittsburgh Steelers fan!