Top gym mistakes you may be making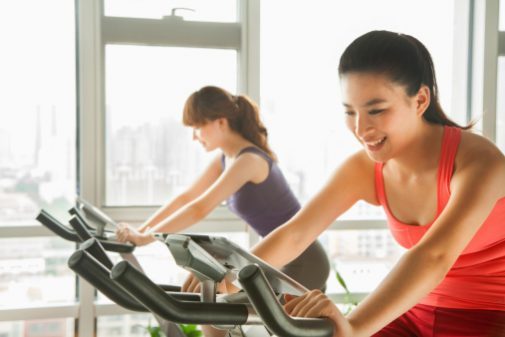 You've taken the plunge and invested in a fitness center membership. You've set goals, and you're committed to them. But before you take one step in the gym, heed some advice from Mary Heinz, a personal trainer at Advocate Condell Medical Center's Centre Club in Libertyville, Ill. Heinz says there are six mistakes she sees at the gym again and again.
Improper form. Many people come in the gym and start doing exercises, but they are completely unaware they have improper form. That is why working with a personal trainer can help. They can show you the proper way to develop form so you don't get hurt. Exercise is beneficial to the body, but not if it results in injury.
Doing too much. There is such a thing as too much exercise. Our bodies need time to rest and recover. Many people will work out so hard for a period, and then their body gets burned out, so they are forced to take a break from exercise. We don't ever want the body to reach that point.
Not doing enough. Some people think if they join a gym and come once or twice a week, they will lose weight, gain strength, etc. Just like reaching any goal, it takes time, effort and hard work.
Doing the same thing. Over time, your body adjusts to a routine. It is important to increase the weight or repetitions for your program and even change the program altogether eventually.
Improper clothes. Although many people wear proper attire for working out, some don't. It is important to have workout clothes, and more importantly, shoes, so you can move properly and decrease the chances of injury. You want to be comfortable and able to move in the clothes you are wearing.
Warming up and cooling down. Warming up and cooling down help prevent injury and reduce soreness, but many people don't include either one in their workout routines. Some people have limited time at the gym, so they try to make the best use of their time while they are there. Many fitness experts believe it is better for your body to make the harder part of your workout shorter in order to include a warm-up and cool down.
Related Posts
Comments
About the Author
Kathleen Troher, health enews contributor, is manager of public affairs and marketing at Advocate Good Sheperd Hospital in Barrington. She has more than 20 years of journalism experience, with her primary focus in the newspaper and magazine industry. Kathleen graduated from Columbia College in Chicago, earning her degree in journalism with an emphasis on science writing and broadcasting. She loves to travel with her husband, Ross. They share their home with a sweet Samoyed named Maggie.