How music can help the healing process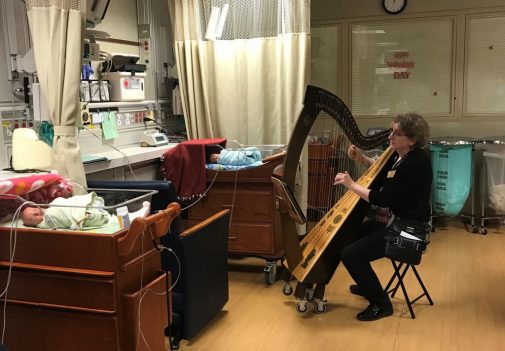 For more than 30 years, I have enjoyed an amazing career as a professional musician, playing the harp for formal concerts, social events and religious services. Believing that the power of music goes beyond entertainment, I enrolled in the Music for Healing and Transition Program™ (MHTP) in 2014 to receive the necessary training to become a Certified Music Practitioner®(CMP). The goal of a CMP is to create a calm and healing environment by playing live therapeutic music at the bedside. The one-on-one personalized sessions do not require active participation from a patient. The presence of live music itself can simply bring comfort and relaxation.
Throughout my MHTP internship, and since graduating from the program, I have played for hundreds of patients around the Chicago area, including at Advocate Condell Medical Center. Many of the experiences have been remarkable; I have seen patient heart rates stabilize in the ICU, agitated patients slowly calm down and elderly patients smile at hearing an old, familiar tune. Every patient and situation is unique, and MHTP graduates are trained to quickly assess a patient, make musical choices and then adapt and change as each session warrants.
An adult cancer patient once asked if I could play children's songs. I began her session with a well-loved Disney favorite. She politely asked for "real" children's songs, and when I asked if she meant Wheels on the Bus and Eency Weency Spider, she excitedly responded, "Yes." This patient said that hearing those songs reminded her of her young daughter, which made her feel more "normal."
The benefits of the sessions are not always limited to the patients. One time, as I quietly left a room after a therapeutic music session, the patient thanked me for helping her concerned husband fall sound asleep in the chair. On another occasion, the charge nurse mentioned she believed hearing the calm harp music helped ease some of the tension her staff was experiencing on an extremely stressful day.
My work as a CMP has been more fulfilling than I could have ever imagined. I approach each patient without any expectations and with an open mind. During these brief moments in time, I feel privileged to share the beautiful sounds of the harp and the healing power of music.
If you would like to make a gift to Advocate's therapeutic music program, visit http://www.advocategiving.org/.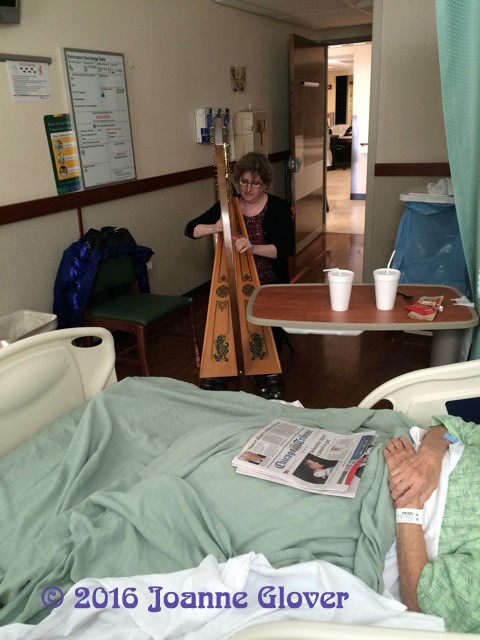 Related Posts
Comments
About the Author
Joanne Glover, harpist, is a Certified Music Practitioner® who received her training through the Music for Healing and Transition Program™. She earned her BS in Music Education from the University of Illinois and MM in Harp Performance from Northwestern University. She is a free-lance musician in the Chicago area and maintains a private teaching studio of harp students ages 5 to 70. In February Advocate Condell Medical Center, Advocate Good Shepherd Hospital and Advocate Sherman Hospital will be launching a new therapeutic music program which she will join.