Do you know the risks of losing weight too quickly?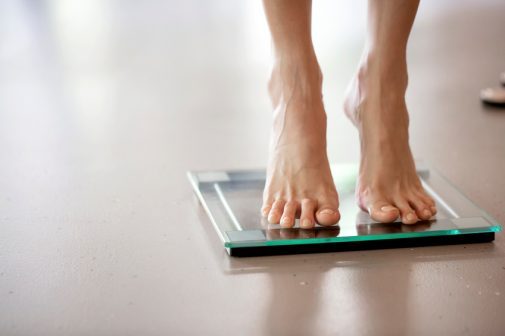 You're a month into the diet you started at the beginning of the year. You're doing well, losing a pound or two each week, but you want to shed weight more quickly, hoping to double that amount or even triple it. Hold up! Experts say when it comes to losing weight, the tortoise philosophy is preferable to the hare approach.
"Slow and steady is better than fast and furious when you're trying to lose weight," says Melodi Peters, a registered dietitian at Advocate Good Shepherd Hospital in Barrington, Ill. "Losing too much weight too quickly can be dangerous. You can do yourself more harm than good."
Among the risks of rapid weight loss are gallstones. People who lose more than three pounds per week may have a greater chance of developing gallstones than those who lose weight more slowly, according to the National Institute of Diabetes and Digestive and Kidney Diseases. The institute recommends staying away from "crash diets" that promise to help you lose weight too quickly. Aim instead for losing at a slower pace and keeping it off over time.
The institute recommends eating foods high in fiber, consuming fewer refined grains and less sugar, and eating healthy fats such as fish oil and olive oil to help your gallbladder contract and empty on a regular basis.
The institute also reports that being on a diet of fewer than 800 calories a day for a long time may lead to heart problems. Additionally, starving yourself can result in malnutrition, dehydration or dangerous fluctuations in glucose levels.
Another serious risk is losing lean tissue, which can lead down a slippery slope of health problems, particularly for elderly people.
"When total calorie intake is low, your body will break down anything it can get to provide fuel," Peters says. "It will break down fat but also lean muscle."
Ultimately, if you're losing muscle because you're not consuming enough calories, you place yourself at risk for falls and all the complications that can arise from them.
When speaking with patients, Peters explains the message this way: Protein equals muscle, muscle equals strength, strength equals balance and balance equals independence.
Peters says the key to a healthy weight-loss plan is balance and consistency. A person might be able to lose a significant amount of weight quickly, but maintaining a diet that results in rapid weight loss would be impossible over a long period of time. To change your eating habits for the better, you need goals you can achieve over time and patterns you can sustain for the long term.
"The goal is a healthy eating pattern that allows you to lose weight slowly and steadily," Peters says. "Losing one to two pounds per week might not seem like a lot, but it really adds up if you stick with it."
Related Posts
Comments
About the Author
Kathleen Troher, health enews contributor, is manager of public affairs and marketing at Advocate Good Sheperd Hospital in Barrington. She has more than 20 years of journalism experience, with her primary focus in the newspaper and magazine industry. Kathleen graduated from Columbia College in Chicago, earning her degree in journalism with an emphasis on science writing and broadcasting. She loves to travel with her husband, Ross. They share their home with a sweet Samoyed named Maggie.