In life, timing is everything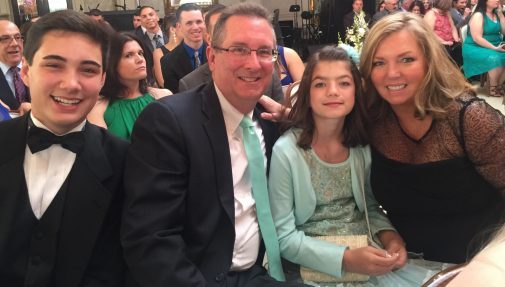 As you read this, I will be celebrating having lived another year. As you may recall, last February 6th, of 2016, I suffered a cardiac arrest in our home. The quick actions of my then 16 year-old-son Brendan and then 12-year-old daughter Grace played a pivotal role in my survival. Without their quick actions, Brendan beginning CPR on me, and Grace directing police and fire responders to our home, I would not be writing this now. I am blessed and grateful to Brendan and Grace for keeping calm at a stressful and highly emotional time in their lives.
The Barrington Police and Fire Departments performed heroically in their efforts to keep me alive. The EMTS were in our home for some 30 minutes, paddling me five times before I sustained a regular heart beat. The fifth time would have been their last attempt at reviving me, at which point, had I not sustained a beat, I would have been pronounced dead.
My challenge to you is to consider the totality of that last sentence, for your life or for that of a loved one…so close to death, but alive again!
Some of the lessons I have learned in the last 12 months are as follows:
The power and love of neighbors and community. The night of my cardiac arrest, we were blessed that several neighbors were home. Upon seeing the emergency vehicles, they rushed to our home to offer assistance to our family. In the weeks afterwards, there was an outpouring of meals, flowers, rides for the kids, and an never-ending stream of notes, phone calls, and visitors. All involved must know how sustaining this was for our family and for my recovery. Thank you seems woefully inadequate to you all, but it is all I have, so thank you!

The fine and caring nurses and doctors at Advocate Good Shepherd Hospital are an incredible asset to our community. Individually and collectively, they helped save my life and led me to recovery. Thanks to all who worked on me. I wouldn't be here without you!

The ability to "give back" is essential as a form of thanks. Brendan and I have been able to share our story, via media and in person, of the importance of learning CPR and acting quickly when necessary. We will continue to act as volunteers for Advocate and the American Heart Association to help educate others about heart disease issues and in learning CPR.

In life, timing is everything. Had my cardiac arrest occurred 5 minutes later, I would have been driving my daughter to a friend's house…how would that have ended up? An hour later, and it would have been me home alone, with our little dog, and I would not be writing this now, as I am certain the dog couldn't perform CPR….!
I have become acutely aware of the brevity of life. The phrase "stop and smell the roses" has taken on an enhanced meaning for me in the last year. I am happy to be alive and well on the road to recovery!
Related Posts
Comments
About the Author
Tom Gould, a Barrington resident and Advocate Good Shepherd Hospital patient, shares his journey after experiencing a sudden cardiac arrest.