12 superfoods that can make your skin glow and hair shine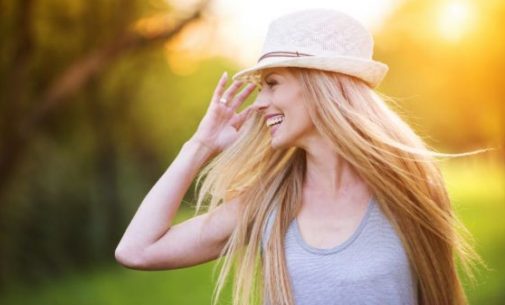 The next time you're shopping for products to improve the look of your skin and hair, steer clear of the beauty aisle and head instead to the fruits and veggies. Don't toss a $7 bottle of shampoo into your cart. Try a 99-cent tomato instead.
Dr. Vikram Khanna, a dermatologist at Advocate Good Shepherd Hospital in Barrington, Ill., says when we eat a nutrient-rich diet replete with vitamins, we nourish our skin and dramatically affect its beauty and function.
"We are what we eat," Dr. Khanna says. "Vitamins such as zinc, copper, and vitamin C, along with amino acids from proteins, build our collagen and give it structural strength. They also contribute to our ability to heal the skin."
Dr. Khanna says in addition to its structural function, skin is also a vital immune organ.
"A diet balanced in protein and critical nutrients and antioxidants derived from green vegetables will boost the immune functioning of the skin," he adds. "A balanced, healthy diet makes your skin healthy and beautiful."
If you want healthier skin or hair, here are some foods that can help.
Food: Salmon, sardines, anchovies
What they're packed with: Omega-3 fatty acid
Why it matters: Omega-3 fatty acids help the body retain moisture and keep skin supple
What you might not know: Sardines and anchovies, unlike salmon, don't live very long, so they absorb less mercury, which can be toxic.
Food: Red bell peppers, oranges, collard greens, kale, broccoli, cauliflower, strawberries
What they're packed with: Vitamin C
Why it matters: Vitamin C is a major antioxidant that can minimize damage from free radicals. What's wrong with free radicals? They can cause disease and accelerate the formation of wrinkles.
What you might not know: A red bell pepper has more vitamin C than an orange.
Food: Tomatoes
What they're packed with: Lycopene
Why it matters: Lycopene may help the skin's ability to withstand UV radiation from the sun.
What you might not know: Lycopene in tomatoes is more easily absorbed by your body when the tomatoes are cooked and processed. Think ketchup or tomato paste.
Food: Sweet potatoes
What they're packed with: Beta-carotene
Why it matters: The body turns beta-carotene into vitamin A, which allows proper moisture retention to the epidermis.
What you might not know: Sweet potatoes have the added benefit of vitamins C and E.
Related Posts
Comments
About the Author
Kathleen Troher, health enews contributor, is manager of public affairs and marketing at Advocate Good Sheperd Hospital in Barrington. She has more than 20 years of journalism experience, with her primary focus in the newspaper and magazine industry. Kathleen graduated from Columbia College in Chicago, earning her degree in journalism with an emphasis on science writing and broadcasting. She loves to travel with her husband, Ross. They share their home with a sweet Samoyed named Maggie.