Giving back helps family keep daughter's memory alive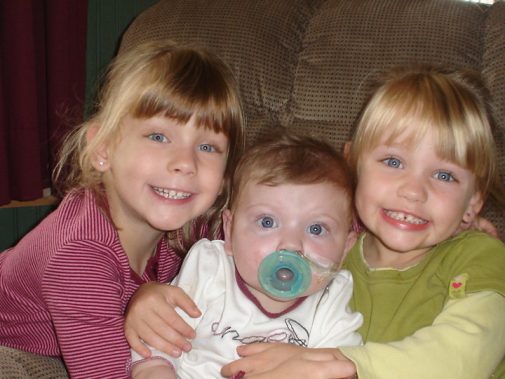 I'll never forget Nov. 15, 2005 – a day that forever changed our lives.  We welcomed our third beautiful daughter, Natalie Anne, at Advocate Christ Medical Center in Oak Lawn, Ill. Unbeknownst to us, Natalie showed complications at birth and was diagnosed with hypo-plastic right heart syndrome later that evening.
Fortunately, we were in the right place at the right time: Advocate Children's Heart Institute, where the best team of doctors and nurses cared for Natalie and helped us through every hospital stay, surgery, procedure and medicine. Among the physicians who treated her were Dr. Tarek Husayni, a pediatric cardiologist, and Dr. Michel Ilbawi, a pediatric cardiovascular surgeon.
During many of our stays at Advocate Children's Hospital – Oak Lawn, volunteers would bring in gifts, videos and even books for our family to enjoy. We were never so touched by the kindness and generosity of people who cared enough to put a smile on our faces even though Natalie was too young to know it. In fact, our daughters Emily and Audrey still sleep with bears that were given to Natalie during one of her hospital stays—they call them their Nattie bears.
Our little "Nattie Bug" was such a fighter. She kept everyone on their toes during her short time with us. She died March 5, 2007 at 15 months old. Natalie taught us life is so precious, and to never take it for granted.
Our biggest fear when losing Natalie was that she would be forgotten—so we decided we couldn't let that happen. With the help of our family and friends, we made the decision to bring in toys, books and other goodies to pediatric patients at Advocate Children's Hospital to pay it forward and keep Natalie's memory and legacy alive.
Now, 10 years later, we have been able to make two donations each year to help the children forget they are in the hospital and bring smiles to their worried parents' faces – even for just a few minutes. Being able to give back to the hospital where our family spent so much time has been a source of peace and comfort knowing that Natalie would be proud of how we honor her memory. She was here, she was awesome, and she will never be forgotten.
Related Posts
Comments
About the Author
Carrie Siemek and her husband, Dan Siemek, are the proud parents of Emily, 15, Audrey, 13, and Natalie, who would be 11 years old now. Natalie was born with a congenital heart defect and died in 2007 at 15 months old. Her family keeps her memory alive by donating toys and visiting patients at Advocate Children's Hospital Oak Lawn twice a year; on March 4, 2017, the family will donate to the hospital three new Wunderwagons, toy wagons specially made to give children a safe and familiar means of transportation within a hospital. The whimsical animal-shaped wagons feature a special trailer that allows a wheeled IV pole to be safely transported behind the wagon.