"I am their advocate, educator, nurse and friend"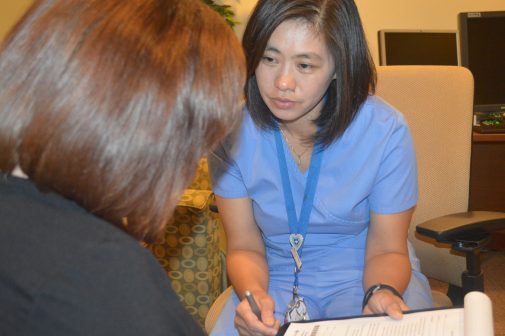 How do you tell someone she has cancer?
There is no easy way, and everyone who hears that word will react differently.
Some patients become withdrawn. Some get angry. Others just break down and cry. It is an overwhelming time for both the patient and her family, and they struggle to find their way through the challenges ahead.
That's why the role of breast health navigator is so valuable. As the breast health navigator at Advocate Condell Medical Center in Libertyville, Ill., I support and guide patients in their cancer journey.
It starts with their diagnosis and continues through to their multiple tests, doctor visits and treatments, to survivorship. I become their resource and point of contact between them and their health care team. I work closely with each of their surgeons and oncologists to streamline patient care and provide timely, quality care. I am their advocate, educator, friend and nurse.
The fulfillment of being a navigator doesn't come at the end of an eight-hour shift when I've completed my tasks for the day. Fulfillment is something much deeper. It comes when patients return to the hospital to tell me how I made a difference in their lives. Holding a hand, giving a hug, listening, making that one phone call…these may sound like little things, but these are the things they remember. These are the things that helped make their difficult journey a little less challenging.
Related Posts
Comments
About the Author
Rachael Daoey, BSN, RN, provides patients at Advocate Condell Medical Center in Libertyville, Ill., with comprehensive breast health care, including screening, breast biopsy, diagnosis, treatment and survivorship. She coordinates patient care with physicians and staff. She has 24 years of nursing experience.