Dark circles under your eyes? This food could help.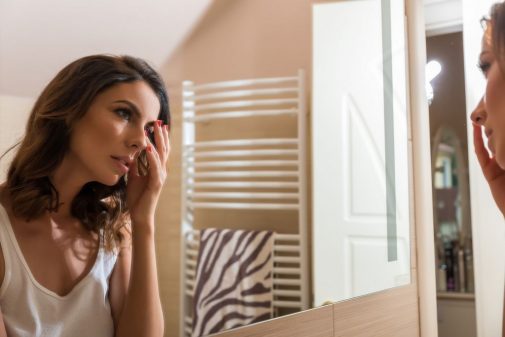 We've all been there – you look in the mirror, and all you see staring back are big, dark circles.
Whether they appeared overnight because you were up late working on a pressing project or have been there for days, diminishing their appearance and avoiding them altogether may be important to you.
"Concern about dark circles under the eyes is a common dermatological concern," says Dr. Michael Welsch, a dermatologist affiliated with Advocate Christ Medical Center in Oak Lawn, Ill. "Most think it is related to being tired and a result of a lack of sleep. But as a dermatologist, there are a lot of medical causes to consider including allergies, eczema, sun-damage and trauma. And it's important to note that dark circles can also be genetic."
That's right – genetic. "The reality is that dark circles are due to the bone structure of the face and how the light bounces off the skin that covers the bone," says Dr. Amy Brodsky, a dermatologist at Advocate Lutheran General Hospital in Park Ridge, Ill.
Still, no matter the cause, the issue begs the question: Is there anything you can do to naturally minimize their appearance?
Beth McMaster, an esthetician with Dr. Welsch, says certain foods can help, and offers the following recommendations:
Cucumber: This is probably the most popular and well-known food to diminish eye circles. Cucumber has skin lightening agents and also acts as an astringent. To get the most out of this food, cut the cucumber into thick slices and put them in the fridge for 30 minutes. Then place them over the eyes for 10 minutes. This will help relax the skin around the eyes and diminish the darkness.
Raw Potato: Potato consists of natural bleaching agents that help lighten up the dark circles and decrease puffiness. Cut it into thick slices and place on your eyes for 15 minutes.
Lemon/Lemon Juice: Lemons also have natural bleaching properties along with Vitamin C to help remove under eye darkness. You can either cut lemon slices or soak cotton balls in lemon juice and place them over the eyes for 15 minutes. Be careful not to open your eyes, though, because the juice can sting!
Mint Leaves: These leaves have a cooling effect, which can diminish circles. Take five to six leaves and crush them up before placing them around the eyes. Let sit for 10 minutes.
Apple: This fruit contains tannic acid, which can help lighten the area under the eyes. It also contains Vitamin B and C along with potassium, which helps to nourish sensitive skin. Cut it into slices and place on the eyes for 30 minutes.
Milk: Milk contains antioxidants that give a luminosity to the skin. For the best effect, soak cotton balls in cold milk and then place around the eyes for 10-15 minutes. Then rinse with cold water.
Avocado: This fruit contains Vitamins B, E and K, which help soften the skin around the eyes and reduce the appearance of circles. Apply slices to your eyes for 15-20 minutes or mash up and apply to your entire face for the same period of time.
Another go-to is green tea bags, says Dr. Brodsky. "They contain antioxidants and are caffeinated, so they help with the illusion of dark circles."
She says the most effective treatment is filler. "It is placed above the bone and under the skin and causes the light to reflect off the skin, making the dark circles no longer dark," she explains.
Finally, if you are looking for natural remedies, it's important to not discount the most well-known contributors to puffiness and eye circles, namely lack of sleep and dehydration.
"Getting 7-8 hours of sleep and keeping hydrated by drinking a lot of water can naturally help to decrease the under eye darkness, as well," says McMaster.
Related Posts
Comments
About the Author
Jacqueline Hughes is a former manager, media relations at Advocate Health Care and Aurora Health Care. Previously, she was the public affairs and marketing manager at Advocate Lutheran General Hospital in Park Ridge, IL. She earned her BA in psychology at Stanford University in Palo Alto, California. Jackie has 10 plus years experience working in television and media and most recently worked at NBC 5 in Chicago. In her free time, she enjoys swimming, going to the movies and spending time with her family.